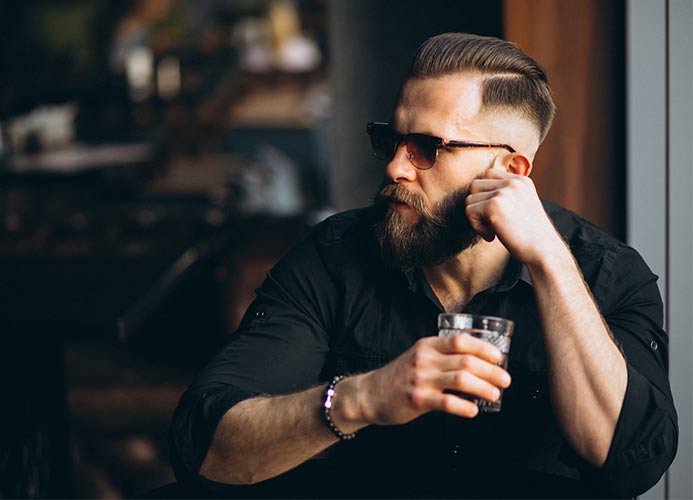 Hair volume is important for any guy who is curious and wants to enhance their look. If we don't have any volume in our hair, it will completely change the look of our face. 
Because hair volume is a great factor that how we look makes it an important topic among guys. Most of the time we think that we can not achieve the desired hair volume because we don't have enough money to buy expensive products like celebrities. 
However, all you need is a good technique and a good product to get the desired volume for your hair. Today, I will provide you with a complete routine and step-by-step guide to give your hair volume, if you are a guy. 
Before that, if you wonder why celebrities have good hair or hair volume? It's because they have hair experts, and doctors to guide them regarding their hair health. Besides this, it's not that their hair is always good. There are some celebrities who damage their hair by using too many products on their hair daily. 
How to Give Your Hair Volume Guys
Get the right hair length
The first foremost step to give your hair volume is to have the right hair length. If you want more volume than., your hair should be between short to mid-length. 
Short hair is where your hair length is one inch (or 2 inches) less than your eyebrows. Similarly, if your hair comes one inch down to your eyebrows, then that's a moderate length ( best length for volume). 
If your hair length is more than 3 inches from your eyebrows, then you have long hair. If you have long hair then it is difficult to give your hair volume because the hair weight also increases. 
Long hair also means you have to apply extra chemicals or products in your hair if you have long hair. 
Before setting your hair or getting the desired volume
Use shampoo before setting your hair
Do shampoo your hair before styling your hair for volume. The reason for shampooing your hair before is to get rid of excess oil (sebum) that our scalp produces. 
The excess oil in hair increases the weight of the hair which results in less hold. 
Moreover, it's also difficult to get volume if you have an oily scalp, so shampoo your hair to give your hair volume. 
Dry your hair after washing 
After washing your hair, you must towel dry hair with gentle hands.
Don't dry your hair completely, instead, let it stay 30 percent wet so that the product or application you use afterward adapts easily. 
Apply protection layer for moisture
If you are afraid that your hair will get damaged by using products or heat, then it's better to use a protective layer before applying any other product. 
If you have serum then you can use it as a protection layer for your hair. If you don't have one then, you can use one to two drops of olive oil or coconut oil as a protection layer. 
This is also helpful if you have dry hair, or your hair gets frizzy after applying products. 
For great hold use only one to two drops of oil, and not more than that. Using more oil will give you less hold. 
If you are not using good quality hair products, and on top of that you also use them not so often, then you may not need to do this step. 
However, I suggest this if you have dry hair like me, or you style your hair daily. 
Use the right dryer and brush
For guys to give your hair volume and at the same time to prevent any damage to hair, pick the right dryer and brush. 
For guys Dryer needs around 1800 to 2000 watts. A small dryer will take longer to dry the hair, which means more heat on your hair. So get yourself a good dryer between 1800 to 2000 watts. 
Here are my recommendations for some best dryers that you can buy to give your hair volume –Conair 1875 Watt ($21 on amazon).  If there is no budget issue then a 2100W Hydro-Fusion Dryer($58 ), or Dyson(all over premium hair dryer for men). I'm personally using  Hydro-Fusion Dryer($58 ) for my hair. 
For guys, it is best to use a round brush to style your hair. Avoid other brushes, you only need one round brush as it is efficient in giving direction to your hair. 
Salons also use this brush to give direction and volume to your hair. If you don't have any, then don't worry, it's very cheap and you can buy it online. Here is some best round brush to style for your hair – REVLON One-Step ($34 best and most bought on Amazon), Conair® Professional Round Hairbrush ( $6 on Amazon ). 
Now use both hairdryers and brush efficiently
To give your hair volume, start blowing and setting your hair in the opposite direction of where you want volume. 
To do it correctly, brush your hair in the opposite direction with the help of a blow dryer. 
After that, move your hair in the direction you want your hair to be with the help of a brush and dryer. 
This is one the most effective way to give your hair volume as your root hair gives the lift to your hair to achieve that desired volume. 
Apply the water-soluble product forhold
After blow-drying and giving volume to your hair, you need a product for hold. You can use wax, clay, or Pompadour. 
Before applying any product to your hair, make sure it doesn't contain harsh chemicals, which can ruin your hair health. 
Avoid hair products that have too much artificial fragrance, and chemicals. 
Avoid wax and clay that contains paraben, silicone, and artificial dyes. 
Use hair wax or clay according to your hair type and are paraben and silicone-free. 
The correct way to apply wax or clay is to put a small amount on your palm and rub it to break it. 

Apply it gently on your hair. While applying, avoid the root area. Apply on the ends of your hair. 

Wash your hair after you get home to cleanse the product from your hair as products can make your hair frizzy and dry. 
Apply Hair spray for a long hold
To make sure that your hair maintains the same volume throughout the day, apply spray at the end. 
Spraying with bad ingredients can damage your hair. Avoid sprays that contain ethanol. 
Secondly, avoid sprays that make your hair hard like a rock. A spray with a stronghold and soft texture is your way to go. 
It's hard to find sprays like that, but I can recommend you these sprays that are good and don't contain ingredients like ethanol. 
Herbal Essences Bio-Renew ( doesn't contain alcohol and cost only $12 on Amazon), 
Avoid wrong ways to increase the volume
Wearing headband
Another big myth and the worst way of getting a hair volume is using a hairband.
Lot of people or men, who have light hair, get frustrated with their hair falling on their head or in their eyes. 
So, to counter that and get the volume in their hair, they use a hairband, without being aware of its effects of it.
If you are using this method to get volume or to hold your hair then you should know that wearing a headband, especially on wet hair can lead to Traction Alopecia. 
Traction Alopecia is a bad sign for your hair and can give you a receding hairline at an early age. 
Wearing cap
Most people believe this myth, that wearing a cap will get you the desired volume. However, in reality, it is not true because of various reasons. 
First foremost is that the volume you get from wearing a cap is temporary. 
Secondly, wearing a cap on wet hair traps the moisture which will cause Malassezia bacteria (cause dandruff). 
Conclusion – In the end, I just wanted to say that, you only need limited products to give your hair volume. Just make sure your hair is not too long. Moreover, giving volume to your hair is good but don't overdo it. I mean, don't do it every day as it will have an effect on your hair in the long run. 
Read Also: Mens casual winter fashion