credit-Vintage photo created by prostooleh
Men haircut styles are something that every man is curious about. I'm the same as curious as you to find about some cool and classy hairstyles for men in 2020. So I did some research in the celeb and hair industry. We have created some amazing collection of men hairstyles that you can rock in 2020. Which will get you a lot of compliments and increase your attractiveness.
Before you go through the list there is one thing you should keep in mind before selecting the hairstyle, which is the face shape. If you want to look more edgy and classy make sure to choose your hairstyle according to your face shape and hair texture.
This list will provide you some of the best men's hairstyles that are going to be in trend in 2020.
Men haircut styles 2020
1.CURLY FRINGE WITH HIGH FADE.
 

View this post on Instagram

 
This Men haircut style is in trend in 2019 and will remain in 2020. If you look around maybe in industry or on streets you will surely find people rocking this haircut. I personally tried these and a lot of people asked me about this cool and unique hairstyle.
The plus about this hairstyle is that it is easier to maintain and you as you know curls get the girls. Of you have a curly or wavy hair, then this hairstyle is for you.
How to style it.
Make sure that your top is pretty long, 7 inches going to work great because you want your hair just naturally come down to your nose.
Sides- keep sides high fade .if you want to get the full out of this hairstyle.
If you keep sides high fade, it is going to look little edgy and cool.
If you don't want to go High fade for the first time and want to keep the sides low fade, then also it will work great for you.
2. MODERN COMBOVER
Combover haircut is one of the common hairstyles out there. It's about a messy one, which makes this hairstyle so much better. Modern comb over haircut is different from others. What makes it different?
The answer to its uniqueness is that this hairstyle is not too clean or too perfect like other men's haircuts. Other men's hairstyles are great but they are too clean and too perfect which don't work in every place or occasion.
Positive about this hairstyle is that you can do both. If you feel like you want a moderate clean look, you can do that by parting the hair on another side. The second option is if you want a little bit edgy, you have to mess it up to side a little bit, which looks really cool and Dope as well.
Also if you are letting your hair grow and you think, it might be a little bit longer to maintain holding up. Then, messing up is a great way to go.
3.MODERN POMA DOUR W/ SKIN FADE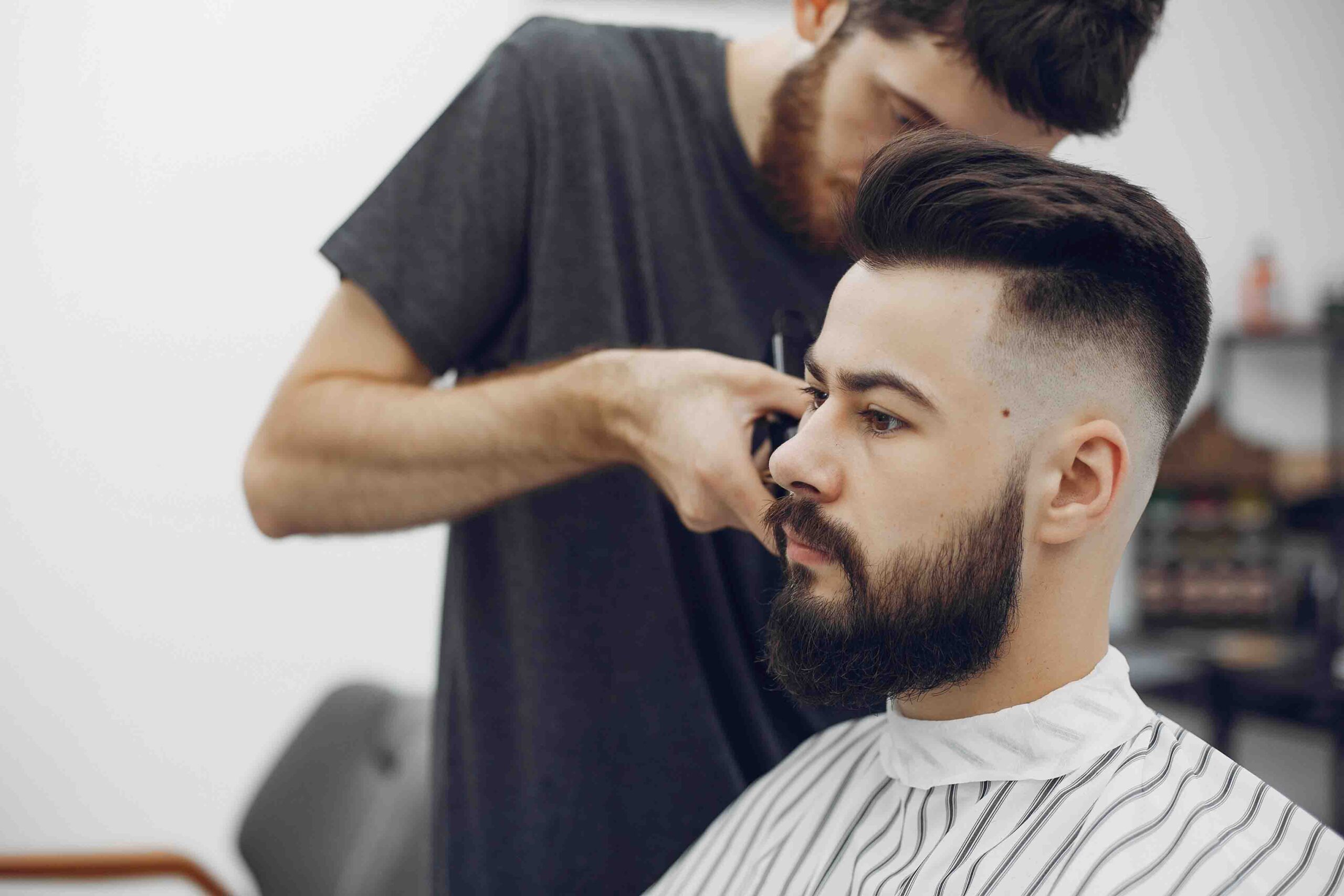 This haircut is going to be the cleanest men haircut on Men hairstyles 2020 list. And a perfect hairstyle to start your 2020. This men's haircut is fire. It's been out there for a long time(around 52 years). It is not going to go anywhere.
But the way to change and make you look more modern is by adding skin fade to it. Which is great, It will be going to make you look younger and cleaner.
how to style
Keep the top long enough to get some volume. The one pron about this hairstyle is that you need heavy products to hold the volume. But that's not going to be difficult for you these days.
4.BLONDE DREADS.
This men's haircut is literally everywhere. This is the latest trend out there. Every rapper walking out there is rocking this hairstyle. This is the newest and the hardest men hairstyle trend of 2020. Personally not mad about this. It's actually a sick cut. This hairstyle is different from others, this is unique
What makes it unique?
The reason which makes it unique is that. It adds so much character to your look. This hairstyle is all about the personality of a person.
If you have this hair type and you have not tried it yet. Then, you must try this hairstyle.
If you think they are not going to look great, just try it for experience and for fun. If you try this hairstyle, surely it will get you a lot of compliments.
The plus about this haircut is that it provides you an edge in a crowd.
5. SHORT TEXTURED HAIRCUT
This men's haircut is one of the safest Men haircut styles on the list. Which is not a bad thing. This men hairstyle is for those, who don't want to go or prefer other hairstyles on the list. You can always fall back on this option.
Every celebrity out there tried this hairstyle at least one time. It works for everyone regardless of your hair color, age.
Positive- this hairstyle can work on any face shape. This hairstyle will make you look amazing.
This is one of the guaranteed things that this is going to work.
How to style-
To style this haircut, just go really short on the sides. From above keep 2 to 3 inches of the top.
To make it messy you can use the textured clay, spray.
6.THE CLASSIC QUIFF
This men hairstyle is for men who are growing their sides. Or who don't want to look too young. If you are that type of guy, you going to love this men's hairstyle. This hairstyle is classic. This hairstyle reflects a maturity in men and makes you more attractive.
It will make you look more of a classic man than a funky guy. This hairstyle will work for any occasion. You can rock this men hairstyle with a dress and a t-shirt with blue jeans. Take on the next level by wearing a suit. I personally tried this and it remains top of my list in 2019.
This hairstyle will make you look super classy and attractive.
7.THE BUZZ CUT
Buzzcut is probably the masculine and strongest haircut on this list of Men haircut styles 2020. This hairstyle is specifically for men who prefer short hair or who want to go from long to short.
If you prefer short hair over long hair .then, this men hairstyle is the best option for you.
Positives– It will make you look more masculine and strong.
This hairstyle is very low maintenance. It will save you time and money. You don't need products, no hairdryer to maintain this hairstyle.
Tip- If you have a long face shape. Then, you should go with a low fade because it will provide you a clean cut. If you go High fade with a long face it probably makes your face look longer. If you round face and you want super cool men hairstyle with beard. Then, you can go with a high fade.