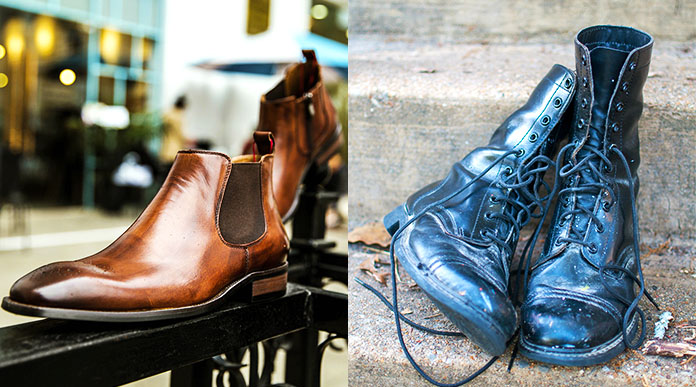 Boots that give us comfort, protection, and style in winter are classic editions that take us back to early times when technology and production are limited. But still, there are boots that evolved with time and passed the test of quality and time, still provide value and class with other benefits. Two of them are Chelsea boots and combat boots. And today we will cover the difference between combat boots and Chelsea boots (Chelsea boots vs combat boots), what is that, make them so unique and different from each other.
Content
● Chelsea boots vs combat boots
● Buying guide for Chelsea boots
● Buying guide for combat boots
There are some affiliate links. If you click on images and buy something. we may earn a small commission from Amazon.
Chelsea boots vs combat boots
Chelsea boots
● Chelsea boots take us back to the Victorian era when Chelsea boots were worn by both genders (males and females). Chelsea boots are also known as victorian boots because Chelsea boots were first introduced to the world by queen victoria shoemaker.
● Chelsea boots are above ankle boots made of suede leather Material. Usually, Chelsea boots contain elastic panels at the sides of boots to provide elasticity and comfortability.
● Chelsea boots are boots that you can wear all year round, especially in winters, where there is light snow.
● Chelsea boots must be worn with fitted jeans only. Yes, you cannot wear Chelsea Boots with any pants or baggy jeans.
● Chelsea boot is a classic piece defined by its simplicity – round heels, no patterns just elastic panel at the side, and slim sole.
● Chelsea boots are lightweight, makes them a perfect material for day to day use. Chelsea boots are much lighter then combat boots.
● Chelsea boots are universal boots, you can style them with casual outfits and as well as with formal outfits.
The suede leather combination works best with a casual outfit like – jeans paired with a leather jacket. For formal outfits, black leather Chelsea boots are the best option. Although formal Chelsea boots should be of your ankle height.
Dark, light brown being the most classic color in Chelsea boots because it can work with lots of different outfits. On the other hand, black Chelsea boots are more into the formal side.
● Chelsea boots is a great pair for winters but, it is not made to sacrifice the harsh cold weathers. But doesn't mean you can not wear them in winters, it still performs great than many other boots in slight snow or rainy weather.
● Chelsea boots are overall a great piece for experimenting with different styles and if you want to look more stylish and fashionable in winters.
Combat boots
● Combat boots as the name suggests are also known as military boots, worn by soldiers during any combat or during training sessions. But, due to its specific features and development, now you can see normal people wearing them on the street. But usually, combat boots are more used for hiking and in the snow rather than be used for a style statement.
The latest combat boots provide foot stability, protection and more style freedom. Combat boots are usually very long, almost up to your mid-calf area. This makes combat boots supremely protective against insects bites, snakes bites, etc during hiking or traveling.
● Unlike Chelsea boots which are popular because of simplicity (no laces and pattern), combat boots have a complex structure, laces from down to top.
● Combat boots are made of hard leather, mostly water-resistant.
● Unlike Chelsea boots which are easy and light to carry, combat boots are heavy and sometimes uncomfortable in day-to-day life.
● Unlike Chelsea boots, combat boots have a thick sole, provides more safety, but are less stylish than Chelsea boots.
● Combat boots perform well in rugged regions, provide safety and comfortability with the big sole.
● Don't worry that your shoes get dirty or useless after stepping in the water when you are wearing combat boots, because they are hard and provide a strong body structure.
Because of its versatility, you can wear combat boots with most of the casual outfits like- jeans paired with a biker jacket, or with tracking shorts. Usually, pants are used to be put inside combat boots, so that the whole structure of the boot fits right and tight.
Unlike, Chelsea boots which can be styled with both casual and formal outfits. The only drawback combat boots have is that you can not style them with a formal outfit.
How to buy Chelsea boots
Before buying any boot it is a must to check the quality and fitting of the boot so that it can last you years and never lose its shine and originality.
Look for the perfect size and fitting
The first thing to look for in Chelsea boots is the fitting of the pair because usually, Chelsea boots are designed as footed boots.
You will never get the right size from any online store unless you have one pair already because the slight size difference will make the boots lose it's structure, as Chelsea boots are meant to be attached to the foot because of its narrow fitting.
A side elastic panel on Chelsea boots provides the elasticity to your foot to fit comfortably in the boot.
Check the quality
Now, you have selected the right size for you it's time to check the quality. Usually, Chelsea boots are made of leather and suede, but the key point to note in a boot is the sole and elastic of the boot.
Before buying make sure the boot has good quality elastic panel because it decides the longevity and comfortability of the boot.
Next, make sure the sole of the Chelsea boot is made of leather and not of any synthetic leather material.
Avoid zippers
The zipper is the replacement of elastic panel in Chelsea boots nowadays. Usually, it is a cheap material that is never introduced in Chelsea boots history. So, my suggestion to you is always to buy a shoe that contains elastic, and avoid one with zippers.
How to buy combat boots
Combat boots are present in different variations, compatible with different weathers and conditions. There are several options to choose from.
● Hot weather boots ● Military boots ● Cold weather boots ● Jungle boots
● Jump boots ● Military tanker boots ● Tactical boots ● Zipper boots ● Etc.
Of you choose any option from the above list. There are some things you should always look in combat boots.
Fitting
Fitting is the key to avoid foot problems. Look for a size that fits well from the toe, so that your feet don't move here there while walking.
Best ways to check the right fit are-
Wear boot socks Wear the boot socks which are bit thicker than usual socks worn with sneakers.
Take a walk
Take a walk while wearing boots and make sure the heels stick to the boots and not lifting.
Buy a less size than normal shoes
Usually, combat boots come in extra in size with the same no. Some boots even have one no. Gap between normal shoes. So make sure to check the size. If 9 size fits you then it is sure that 8 or 8.5 size is best for you with combat boots.