Jeans is a versatile cloth item that everyone should have in their wardrobe. That said, jeans are the oldest bottom wear that can never be replaced. But, a lot has changed in the early years, where in the early years you can only wear jeans with a shirt or t-shirts now there is no limitation and you can dress up jeans with different outfits. So, let's keep it short and discuss how to dress up jeans with different outfits for different occasions.
But before, you should know about the type of jeans that are there in the market and which suits you best. If you have the right one already, you can skip this part.
Image credit :Designed by prostooleh / Freepik
How to dress up jeans men's 
Dress up jeans with a t-shirt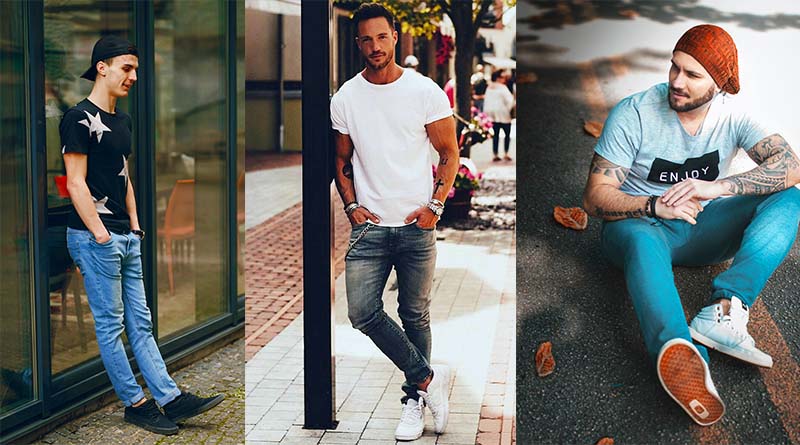 Image credit :Designed by prostooleh / Freepik
You get a lot list of options with jeans and a T-shirt. The best way to dress up jeans with a t-shirt is matching light blue jeans with a white t-shirt and black shoes. You can also go in black jeans with a white t-shirt. Don't overdo the Colors, just keep it simple and classic, which means blue jeans should always be your priority.
Now, if we talk about footwear, you can always experiment with shoes. You can wear black sneakers with blue jeans or brown loafers to add an edge to the outfit.
Always look for the perfect fit in a t-shirt, it should fit tight from the chest and bicep area.
To maintain the look, avoid running shoes or big soal shoes.
Multilayering
To add more style to your outfit you can always add extra layers like white denim jacket on a black t-shirt and black jeans. You can experiment with different multilayering but make sure your footwear matches the color of the layer.
Dress up jeans with a dress shirt
Not a surprise, but always the best option to dress up jeans. Dress shirts are basically come on the formal side, and casual jeans complete the whole new fashion.
You get varied range options with dress shirts but there are key points to keep in mind.
1. Always choose classic dark blue jeans
2. Choose brown or black dress shoes
3. Get a belt that compliments(same) the color of your shoes.
You can never replace the whole dress shirt. Get the look by pairing a white dress shirt with dark blue jeans and brown leather dress shoe compliments the brown leather belt.
Dress up jeans with a suit
This is the biggest question to many men can you dress up jeans with a suit? The main reason for the question takes us back to early 1959s where suits are considered too formal that you have to wear dress pants only. But with time everything has evolved in the fashion industry and now dressing up jeans with a suit is a new trend, which a lot of men often prefer in their meetings.
Key points to remember when you dress up jeans with a suit.
1 The first step, you should always choose simple jeans without any chains or holes, basically choose the dressiest jeans you have.
2 Make sure there is a contrast between the suit jacket and your jeans. This means if you pair dark blue jeans with a dark blue jacket it doesn't match because there is no contrast, instead go with a light suit jacket something like white.
3. Another thing to look for is the length of your pant. Choose the right length of the jeans, usually, your jeans should slightly touch the upper lace of your shoes, more than that will look baggy.
Dress up jeans with a waistcoat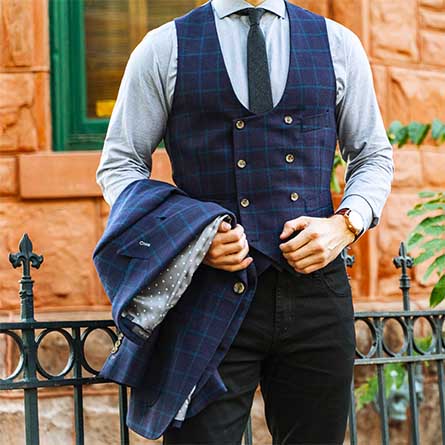 Few people think to dress up jeans with waist don't know why, but combining both will make a nice semi-formal outfit that you can wear to the office or any event.
Dress up jeans with a long coat
Jeans work best with long coats like a trench coat. Yes, if it is getting cold down in your region you can rock this combination, one of trendiest and best street style out there.
Blue jeans are a versatile option that works great with most of the trench coats. Speaking about a trench coat, always go buy a quality piece and if you don't know what's the best quality then consider reading this article( How to wear a trench coat male) and you will know what's best for you.
One of the stylish ways to style a trench coat and jeans is to go with blue jeans and brown or camel color trench coat paired with brown Chelsea boots.
How to choose the best jeans
To select the right pair of jeans first you should know the options available in the market.
Loose jeans
This is the regular fit that you see in lots of stores and shopping malls. These jeans have a lot of excess fabric from ankle to waist, basically the loosest jeans you will find in the market. Loose jeans have square ankle opening basically not too wide or too close which makes it cover your shoes when you wear them on. This can work for a lot of guys if you get it nice tailored from the bottom. Simply cut 1 or ½ inch of the ankle to get nice detail.
Straight fit
A narrower version of loose jeans, these are considered as regular fit by some brands. Straight fit gives you the fitted waist, not slim but slightly fitter than the loose jeans.
The jeans follow the same structure from waist to ankle, but they still look baggy because of excess fabric. This is probably a better option than loose jeans. The shoes also remain uncovered when you wear these jeans because of the narrow ankle.
Slim fit jeans
Have the same waist as straight fit, no swapping of fabric at the top. If we talk about the ankle, you will get a medium-sized ankle in these jeans. This is more narrow than the straight fit and doesn't look baggy.
Due to less fabric or material slim fit jeans stay attached to the legs when you walk. Also, you get good detail from below because of the less opening of the ankle.
Skinny jeans
One of the popular trends right now, these jeans as the name suggests are tighter from the lower leg area and thigh area. The people with defined leg and butt shape rock these perfectly.
There is no excess fabric which makes the jeans stick to legs when you walk.
Boot cut jeans
This is an old classic piece that is out of style for almost 12 years but still, in some countries people over 39 use them. Boot cut is a triangle shape pant that basically has a narrow waist and wide ankle length. These jeans cover most of your shoes because of the wide ankle gap.
Bootcut jeans form the triangle shape when you wear them on due to down wide gap and low waist up.
Super skinny
These are the tightest jeans available in the market. Though you get a stretchable material but can be proved uncomfortable for many men's. These jeans are tight from upside down, there is no excess fabric and you get the little ankle gap.
So, which jeans should you buy?
Basically, in my opinion, slim fit jeans and straight fit are the best options for average men. Cut down the boot cut and loose jeans because if you wear them you will carry the excess fabric with you that will flip here and there, and also they are so big which basically doesn't suit the trend.
The men with skinny legs or thin legs can go with skinny jeans because it will look normal pants on those legs. Built men or average men should avoid skinny jeans.
A big no to super skinny jeans because they are too tight and gives more of a girlish vibe.