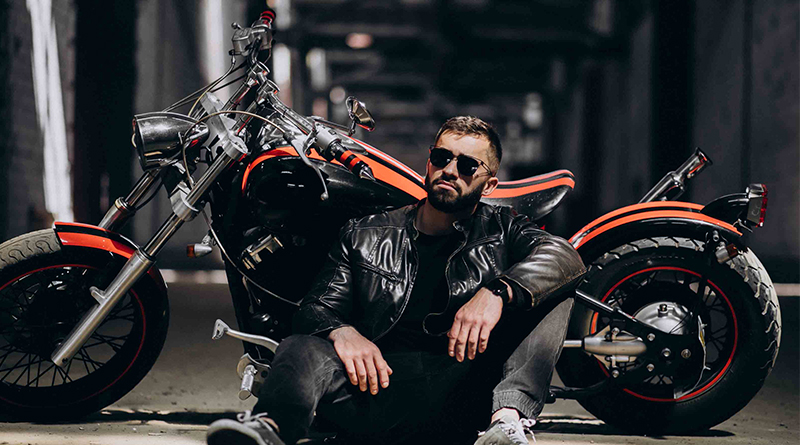 Nothing can replace a classic leather jacket, ever since from 1920s leather jackets never lost their place. Without a doubt, there is no way that you should not have a leather jacket in your wardrobe. One question that is always asked randomly by jackets lovers is how to wear a leather jacket without looking like a biker? The answer to this is, simply, by avoiding some things that bikers generally do with styling a leather jacket.
How to wear a leather jacket without looking like a biker?
The best way to wear a leather jacket without looking like a biker is, by Avoiding patterns, Keeping the jacket unzipped, Choosing a long collar and lapels, Picking sneakers over boots, Fitted jeans with ankle cut
BY avoiding patterns​ 
As leather jackets are available in different types of patterns ( loaded with stickers and chains), which is more likely gives a biker look.
Just go with a simple one color option like – black or brown.
By keeping the jacket unzipped  ​
Show the layer underneath your Jacket by keeping the jacket unzipped because doing so gives a casual street look.
When you cover the layer underneath your Jacket it gives a vibe that you are ready for a tour on your bike.
By picking Sneakers over long boots​ 
Boots give a rusty bad boy look that works best with bikers, but if you are wearing a leather jacket for casual purposes then always go with sneakers.
Long collars and lapels- ​choosing the right collars and lapels also have a huge impact on your look. As for bikers, small collars are a good option, which on other hand, for casual wear long Collar is the best option.
Similarly, wide lapels are designed for casual wear to give jackets a more stylish and trendy look.
By wearing fitted jeans​ 
fitted jeans with perfect ankle length works best for casual attire, as while biking it's important to go with leather pants or long pants to get the protection at high speed.
Different types of leather jackets
Bikker Jacket
The old bad boy classic jacket is specially designed for outdoor and racing. Bikker jackets are made of pure leather, usually comes with asymmetric zips and studs.
An asymmetric pattern of biker jackets designed unsurprisingly for motorcyclists to allow them to lean forwarded or down without stretching the jacket. Biker jackets are designed to make body movement comfortable.
Faux leather jacket
Designed for casual wear, this jacket is made of faux leather, basically not an animal-friendly jacket.
The faux leather jacket is the shade of leather jacket, comes in shiny and low-quality leather material which doesn't last long. This jacket can cover your style needs, and proved not too hard on your pocket as this jacket will cost you way less than other leather jackets.
The Moto
Also known as a cafe racer jacket, designed with minimal zips and small collars. The reason behind its minimalistic design is protection and less drag at high speed for the racer.
The Moto jacket can be worn for casual and formal events because of its minimalistic style. This jacket is made of lightweight material which makes it more preferable in light cool or moderate weather.
Bomber jacket
One of the best casual wear jackets out there. These are designed for warm weather and comes in fur lines or fur collars.
Bomber jackets are versatile and work with most casual outfits like t-shirts and jeans. These jackets come with fitted tight cuffs and waist.
Bomber is typically made of supple leather or nylon fabric. The bomber jacket gains its popularity in recent years and is a must-have Jacket in every men's wardrobe.
How to style a  biker jacket without looking like a Biker?
Leather jacket with a t-shirt and jeans
What's the best way to rock a leather jacket other than a white t-shirt and jeans. It's the universal opted outfit option with a leather jacket
● A black leather jacket with a white t-shirt- Wearing a black leather jacket with a white t-shirt is the best way of getting a casual street style. As this is a versatile option, goes well with any skin tone.
● Blue jeans paired with white sneakers- Blue jeans are your way to go with a leather jacket and pairing it with white sneakers like – Stan Smith is the best option out there.
leather jacket with hoodie
The best combination for the winter season. As wearing a hoodie under jackets gives you an edge over if you style it with a t-shirt.
How to style
● Black Jacket – Black leather is the most iconic piece out there which suits almost all types of outfits.
● Grey hoodie- grey color compliments the black color best, besides grey you can also go with an off-white color.
● High neck shoes – Alike high neck air Jordan one which compliments the whole outlook of your outfit.
● jeans – blue jeans is one of the best and versatile option you can choose to rock with a leather jacket.
Formal attire
As a lot of people don't know about styling a leather jacket with formals. Yes, you can style it with formals to get an edge.
How to style
● Nice blue shirt with a tie – blue is the universal color for formals, but you can also go with other color shirts. Keep in mind to, choose the plane formal shirt instead of a shirt with a lot of patterns.
Adding a tie to the outfit gives a formal vibe. As it's an individual preference but I will suggest you always wear a tie as it completes the whole look.
● Pant – go with formal pants with the belt on. Always keep in mind to check the fitting and length of your pant.
● Chelsea boots – Chelsea boots should be your number one priority with this look because formal shoes don't go well with a rugged and zip jacket.
How much a leather jacket cost ?
Leather jackets generally cost higher than any other jackets. As there are different types of leather jackets some made of pure leather and some made of cheap leather. If you are preparing to buy a biker leather jacket, then make your wallet tight, as they come with a heavy price tag because they are made high-quality material such as toughened leather, kevlar/cordura, etc.
Good quality leather jackets start roughly from a minimum of $ 500 to $2000 anything expensive than that depends on brand value and brand name, and anything less than that is usually made for style purpose. 
Brands that provide a high-quality biker jacket?
H&M 
The brand that provides high-quality leather and faux jackets. H&M provides a lot of options starting with its high street look updated with the latest styles and trends. It is not all about style, H&M also provides the premium quality leather jackets that match with their brand name.
Besides its versatile option service, It doesn't give your wallet hard time, they provide reasonable price leather jackets
Zara
One of the best players in the fashion industry made its way on the list. If you are looking for leather jacket that costs you under $200 than Zara should be your priority.
From its range of styles to its High offering fashion takes Zara has it all for you in a friendly moderate budget.
Belstaff
Top players in the field of leather jackets Belstaff is best know for its magnificent quality and hand WAXED OPTION that ensure the quality of your jacket gets better with time. The best option you can get from this brand is water-repellent treatment, which means you don't have to save your jacket from the rain.
Belstaff is a listed brand, recognized by celebrities and stars all over the world.
Reiss
With its varied range of options, Reiss is well known for its close-fitting leather jackets. As the quality of leather increases with the price tag. If you have a good moderate budget then Reiss can be your choice.