Hoodies have been one of the versatile staple pieces in every men's and women's wardrobe. One can wear a hoodie to a date, gym, and while going shopping or just chilling at home. There are many ways one can style a hoodie according to the occasion and situation. One way of styling a hoodie is wearing a shirt over a hoodie.
Though it is very easy to style a hoodie, there are certain things that one should keep in mind while wearing a shirt over a hoodie that can save one from ruining the outlook. 
This article will go through the tips to style shirt over hoodie that every hoodie lover should know whether you are men or a woman. 
Tips for styling shirt over hoodie
Hoodies are one piece of clothing that is meant for comfort. But there are many ways to upgrade your style with this comfortable-looking piece.
Here are some tips for wearing a shirt over hoodie.
1. Choose a plain hoodie
When you wear a hoodie under a shirt, the number rule is to choose a plain solid hoodie. This is important as most printed base layer doesn't go well.
Another reason for choosing a plain hoodie is that it compliments the outer layer. If you are wearing a patterned shirt over a hoodie, both layers will compliment each other.
On the other hand, picking the graphic hoodie for styling as a base layer will counter the outer layer. If you want to wear a graphic hoodie the best way is to wear it with any layer.
2. Choose the right time
Though it ones own personal preference to wear what they want according to the time. But if you want to look presentable and someone who knows what to wear when then it is sensible to pick the right time for the right outfit. 
When it comes to wearing a shirt over a hoodie, one should choose the fall time. Fall time is best for styling a hoodie under a shirt.
For wintertime, it is best to go with a jacket over a hoodie. However, if the winters are not that harsh where you live then you can go with the shirt option. 
Another main reason why a shirt goes well with a hoodie in fall is That most of the shirts that you can style over a hoodie come in fall colors.
For instance, let's talk about flannel shirts or cauterized shirts. Both shirts come in fall colors which are basically dark tones and in a different texture than normal shirts. 
3. Pick the right shirt
The next biggest tip is to pick the right shirt over the hoodie. Avoid Oxford or simple pattern shirts, instead go for something like flannels, denim shirts, and cauterize shirts. 
3.1 Flannel shirt 
Flannel should be your top priority when styling a shirt over a hoodie. Flannel is made of a lot of different fabrics and is best for falls.
It is made of thick fabric and provides you with a little bit of warmth. Earlier it used to be made of wool fabric, but nowadays other fabrics like cotton and synthetic fabric are also used. 
The reason why a flannel shirt looks good over a hoodie is because of its napped finish. A soft feel and loosely woven fabric is an add-on that gives a comfortable and chill vibe.
This outlook goes well with a hoodie which also represents a comfortable vibe. 
3.2 Denim shirt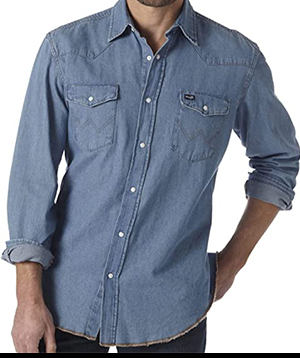 The denim shirt is one of those types of shirts that you can wear over a hoodie. A denim shirt is a style statement that goes well with a hoodie.
One can wear a denim shirt over a hoodie or without a hoodie. Denim shirts are a parent to a denim jacket that looks dapper on a hoodie.
But if you want to get a similar styling outlook like a denim jacket in slightly less cold weather then denim shirts should be your priority. 
3.3 Corduroy shirts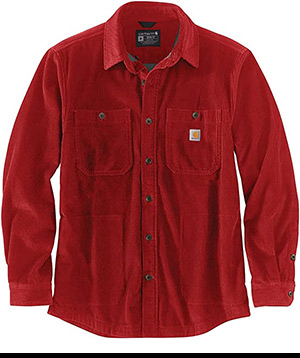 A lot of people don't have corduroy shirts in their wardrobe, the reason is that they demand more care.
But they look classy when you wear them over a hoodie. The loose weave fabric and soft touch with texture on the shirt make it look like a stylish jacket.
You can wear a corduroy shirt over hoodie if you are going shopping or on a date. 
Lastly, you need to avoid normal button-down and button-up shirts.
The shirts you should avoid wearing over a hoodie are –
Oxford shirt

Semi-formal shirt
4. Avoid zip-up hoodies under a shirt
This is important! If you want to look clean with your style then it is best to avoid wearing a zip-up hoodie under a shirt.
You should only wear a simple solid hoodie when you are wearing a shirt over it. The real reason behind layering.
If you wear a zip-up hoodie then you have to open the zip else it will look odd. This means you have to wear the third layer under a hoodie. 
Moreover, it also loses the purpose of wearing a hoodie under a shirt if it is not visible. It becomes the same as wearing a shirt that has a hoodie.
However, in the end, I just want to say that it is a personal preference but if you are going for a style, then it is better to go with a plain solid hoodie. 
5. Avoid wearing a too-tight hoodie
The hoodie comes in different sizes from slim fit to baggy. Though it is a personal preference,but you should never go for a too-tight hoodie, especially if have a good physique.
Now, I'm not saying you to go for a baggy one. Choose somewhere in between where you feel comfortable.
For a style statement, you can go with a slim hoodie but make sure it does not hug your body as that will look odd when you wear a shirt over a hoodie. 
If you want to create a chill casual outlook then you should go with an oversized hoodie. While styling an oversized hoodie, you need to ensure that it is not too baggy as it will be difficult for you to wear a shirt over it. 
6. Never close the shirt buttons
Never ever do this when you wear a shirt over hoodie. Not only it will look odd but also make uncomfortable for you. It will make you look congested and create a closed body language and I hope nobody wants that.
Secondly, it does not look great at all. This doesn't make any sense, if one has to close a shirt button then wear it under a hoodie and not over it. So, do make sure that you do not make this mistake. 
7. Don't choose the shirt that comes with a hoodie
Having two hoodies layering over each other at the back is not the best way to rock this shirt over hoodie outlook. There is no meaning to wear two hoodies at a time.
If you want to, then as an alternative you can choose a nice cap that compliments with the color of your outfit. 
8. Proportionate the length 
This is very important as you don't want to look like someone who just created this outlook the first time. To get the perfect outlook, check the length of your hoodie and shirt.
Any of both(shirt or hoodie) can be longer than the other, but make sure the difference is not huge as it will look odd.
If you are wearing a flannel shirt over hoodie then it is best if the shirt is slightly longer than the hoodie.
On contrary, if the shirt is shorter then also nothing to worry about, just make sure it is not too short. 
9. Don't match the color
Don't match the color of the shirt that you are wearing over a hoodie. What I mean by that is if you are wearing a plain fannel Or any other shirt, then make sure the color is different from the hoodie color.
Choose the color that compliments the color of your hoodie. For instance, if you are wearing a cream hoodie, then you can go with a black overshirt.
Similarly, if you are wearing a blue denim shirt then you can go with a white or black hoodie. 
To check the best complimentary color that matches the color of your hoodie, you can check the color wheel on google. The color opposite each other always compliments each other. 
Still, if you are finding difficulty picking the right color, then go with black, blue, or brown. These are the color that goes well with anything. 
Moreover, if you are wearing a flannel shirt then I would recommend you to wear a pattern flannel shirt as it goes hand in hand with a solid hoodie underneath. 
10. Avoid hoodies with big pouches
Pouches are the main feature in hoodies but you don't want big pouches in front as that can ruin the whole outfit.
Pick the hoodie that has side pouches as these will be covered when you wear a shirt over it. But hoodie with front pouches doesn't look good at all when you layer them as a second layer. 
Conclusion – :
These are some of the things you should check before wearing a shirt over a hoodie. Overall flannel shirts look best over hoodies but you can experiment with the other two.
Lastly, you need to keep things simple and elegant because layering in itself is a status and you don't need to overdo it by wearing printed hoodies.