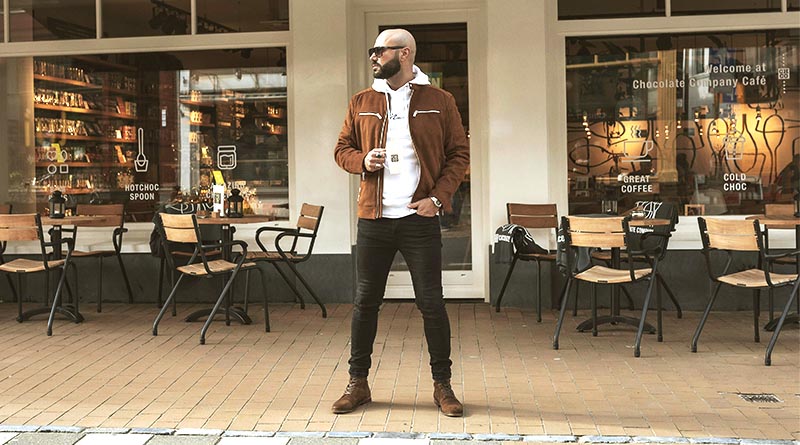 The simple hoodie may not provide you an edge or out of box style, but adding layers with a jacket will create a classic street look that you can rock on casual occasions. Styling hoodie under jackets is easy but make sure to get the perfect guide before pairing both items. So. if you want to come out of your comfort zone and want to try something different and stylish then this article is for you where you can learn- how to wear a jacket under a hoodie.
How to wear a hoodie under a jacket
Hoodie under a suit jacket
Starting with the newest trend out there hoodie under a suit jacket. Yes, this classy trend is a show stealer with its edgy and unique outlook.
When wearing a hoodie under a suit jacket make sure to choose the right fitted hoodie with no zip. Yes, you don't need zip to make the outfit look overcomplicate. Just go with a simple nice hoodie.
The second thing to check before pairing the hoodie with a suit jacket is the color of the hoodie should complement the suit and shoes. That said, go with white sneakers to keep the classy look at point.
Last but not least, never close the buttons of a suit jacket when paired with a hoodie. Just keep the look casual.
Hoodie under a leather biker jacket
If you are late and need a quick option that looks cool and classy then a biker jacket over a hoodie is your way to go.
The biker jacket is loaded with studs and zips make it one of the coolest and sexiest jackets out there for the motorcyclist and as well as for normal people.
Yes, don't go with a name anyone can pull this jacket over a hoodie. To rock this look pair up your black or grey hoodie with a black biker jacket.
Avoid bright color hoodies with a biker jacket because it will make the hoodie stand out and doesn't compliment the black color of the jacket.
Hoodie under a denim jacket
A great option for college boys or for casual occasions like- going shopping, at Caffe, etc. Denim is one versatile piece that can be styled with different outfits and the one way to style it is over a hoodie.
When you style the denim jacket over the hoodie make sure the shoulder fitting of the jacket is at the point, don't wear too loose denim over the hoodie because then the hoodie overpowers the jacket and looks big.
When selecting Colors go with mild cool Colors like – white hoodie under blue denim paired with black jeans and white sneakers.
Hoodie under a rugged denim jacket
If you want to make the bold statement with your style, then pair a hoodie with a rugged denim jacket. Before selecting the right denim jacket, make sure threads are not popping down or the jacket should not be loaded with stickers.
You can also experiment with hoodie style like – go with zip down hoodie or you can wear a printed hoodie with minimal patterns.
The best way to rock this look is to keep the denim and hoodie open, with an under t-shirt plays the role as the first layer.
Hoodie under a bomber jacket
You can not keep this jacket out of this list. A bomber jacket is one of the versatile pieces of jacket that usually comes with a front zipper and tight fitted elastic cuffs and waist.
That said, bomber jackets are now present in different materials in the market like leather, nylon, etc. Leather is the oldest and original material for the bomber jacket.
But you can go with low-quality material when you wear it over a hoodie because a hoodie adds an extra layer and cover-up for the cheap quality material.
There are two great ways to rock this hoodie and bomber look. The first is to wear a zipper hoodie under a bomber jacket or you can go with a simple hoodie without any zip.
You can always do experiments with a different bomber jackets and hoodie Colors because bomber jackets are the ones available with a lot of color options.
Hoodie under blouson jacket
If you want the better version of the bomber jacket then buy one piece of blouson jacket and style it over a zipper hoodie or close hoodie.
As you know the blouson jacket is similar to the bomber jacket in some way but what's makes it unique. Usually, a blouson jacket is an 'up to down zipper jacket' with a tight fitted waist and cuffs, same as a bomber jacket.
But the blouson jacket gets an edge over the bomber in Collars. Yes, this jacket has unique and different collar styles with a completely clean finish at the end.
The best way to rock this look is to wear a blue blouson jacket over a grey hoodie styled with cream chinos at the bottom.
Chelsea boots and sneakers footwear works great with it. Make sure to match the color of your shoes with the hoodie.
Hoodie under hooded jacket As the name suggests, it's made to be worn with a hoodie.
Hoodie under shearling jacket
A lot of you may not know about this Jacket but if know then you also know how great this jacket looks over a hoodie in winters.
That said, a shearling jacket is one masterpiece for your winter wardrobe that fights harsh cold weather and keeps you warm with its wool material inside and protected layer of suede or leather outside.
Shearling jackets can be noticed easily if you look at collars because the collars of this jacket are big shearling collars that compliment the outfit more when you wear a hoodie under it.
The best way to rock this look is – to pair a black hoodie with off white shearling jacket and black dress boots. Or you can go with a classic chocolate brown shearling jacket over a grey hoodie, paired with long Chelsea or dress boots.
Hoodie under a trucker jacket
Get ready for your weekend with a trucker jacket over one simple hoodie. As for those who don't know what is a trucker jacket. The trucker jacket looks similar to denim jackets but comes in a lot of materials like suede, denim, and also in suede-shearling.
This is a front buttoned-up jacket that gives a cool weekend vibe when you wear it over a hoodie
To rock this style, you can go with different options. Some are – simple black hoodie under a maroon trucker jacket, paired with black jeans. To keep the look cool wear a pair of sneakers under it.