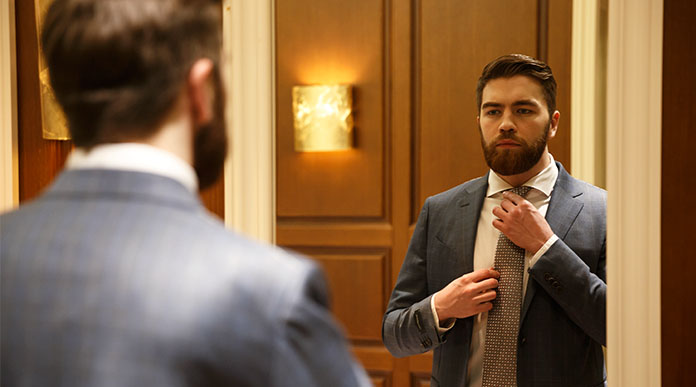 It does not matter if you are tall, slim, or fat men. A nice fitted suit will always add a character to your personality. But that is a fact, in the real world it same for slim and average men, but for fat guys, there are a lot of myths and very little knowledge and options out there. But this doesn't give leverage to slim guys over fat. There is no doubt that a fat man or guy can rock a suit like a gentleman, and can look great than the average man if know how to wear a suit if you are fat.
To make the topic short and clear, let's discuss some important tailoring and buying tips for fat guys who want to look masterpiece in a suit.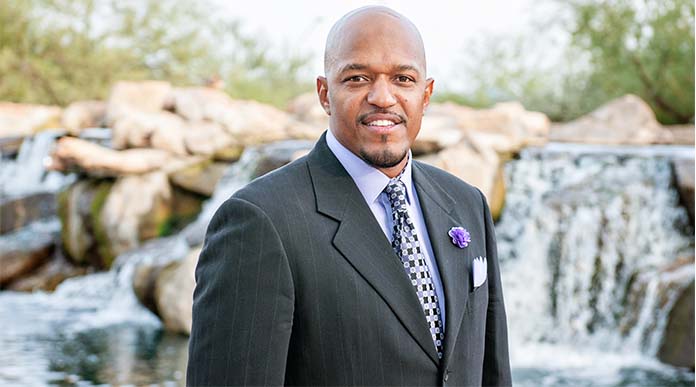 How to Wear a Suit If You are Fat ?
Lapels
Lapels are something that can make a huge difference.
Go with middle-length lapels mainly between 4″ – 5″. Too slim and wide lapels are bad if you are fat or a big guy. As per GQ 5″ is the best option for short fat guys.
If you are a little bit taller you can go with 4″ or 3.5″ lapels.
Single Breast or double breast
Double Breast is the most preferable option to fat or round guys, because a single breast will make look more round, and you don't need that.
However, if you are a bit on the taller side with a little bit belly out, you can also go with the double breast option, but make sure the length of your coat is not too short, which creates unbalance.
Single-button or two-button suit jacket
Buttons are an important aspect of the suit, sets the structure of the suit. The best option for round or fat guys is a single button that touches the end of the lapels.
Now, it can be the opposite if you're a bit taller and broad, then going with a single button will make the excess fabric hang loosely, especially around the lapels.
So, the best option should always be two buttons, if you are a tall man with a beer belly.
Fitting
Fitting will always remain the king whether you are slim or fat. Getting the right suit fitting for fat men is not a complicated task as it seems.
You have to go with the same tailoring tips as an average guy, look for shoulders length and fitting, length of the coat.
● Shoulders fitting
Shoulders are what make the suit a symmetrical and aligned masterpiece, that can be rocked by any type of body shape.
Now the first thing for round and fat men is to keep the suit attached to your body, which means keep the shoulders fit in a way that the endpoint of the shoulder arc sits on your shoulders endpoint.
Or you can also keep it a little loose. Just ½ inch is enough, not more than that.
Well, there is a myth that you need excessive or more cloth to cover your body if you are a fat guy. But the truth is vice-versa. Yes, the less is good.
On the other hand, if you have a big belly it doesn't mean you need long sleeves, or broad shoulders because the size and shoulders length remains the same.
Only the belly uses the vast area of fabric. You can try different lengths but always make sure the suit jacket doesn't cover your buttocks area.
Are patterns suit worth trying for fat guys?
Another popular myth around related to suits is that fat guys should always wear plain suits. But in reality, you can go with stripes, patterns, etc., and still look dapper.
One other thing, always buy the heavy fabric or cloth for a suit if you are a fat guy because heavy suits sit well on a round body
On the other hand, lightweight clothes just hang here and there on a round body.
Trouser fitting
It depends on a personal choice, which means if you wear a trouser over the waist, above the waist or down the waist.
Well, out of all the three options over waist is a good option because it shows the clean lines of the trousers.
On the other hand lower waist destroys the lines and alignment of the trouser.
One other thing to look for in trousers is, if you have pleats in trousers, go with the extra waist length because when you sit the waistline gets wider.
And if you have straight tapered trousers with no pleats, you still can rock that. But always makes sure to wear trouser over the waist to pull it correctly.
Belt or no belt
Belts are a big no if you are a big or fat guy. Instead, go with braces or a vest because when you wear the belt and you are wearing the trouser over your waist, it will destroy the fine lining of the trouser.
On the other hand, if you are a tall and broad guy, a nice tapered trouser without any pleats is a good option for you.
Where to buy suits for fat or round guys?
Made to measure – for round and fat guys made to measure is a good option because there is very little probability that brands fit you well.
Bespoke – this is one of the finest and best ways to get the fittest and best quality suit. Bespoke is basically a term used for custom-made suits.
There are several bespoke houses around the world. No one who loves suits is inward of bespoke quality and fitting.
It is claimed that it takes 50 hours to build a bespoke suit, usually, 90% is made with hands.
Bespoke custom-made suits are not cheap, in fact, there is no limit to spend if you have.
A normal bespoke suit can cost you around 1800$ or more than that. It all depends on how much you are willing to spend.
But, you get every penny worth in the quality and durability of the suit. Especially, if you are fat bespoke is the best way.