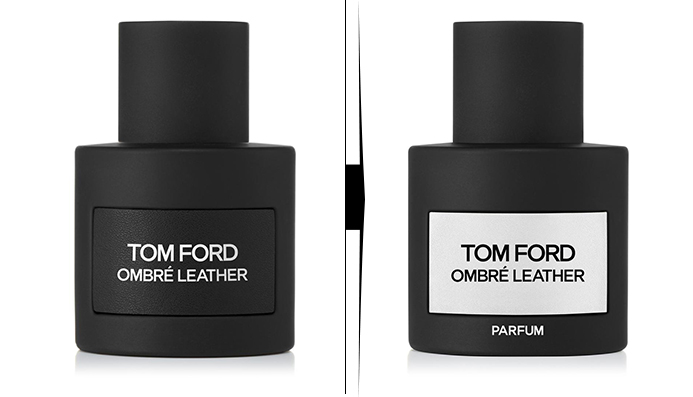 Tom Ford is a famous designer brand that we'll know for clothing, perfumes, accessories, and cosmetics. But in this article, we only focus on perfumes. One of Tom Ford's top sellers is Tom Ford's ombre leather. Tom Ford ombre leather was a huge success and still many people are obsessed with this leather fragrance.
But now Tom Ford has released a new version which is a parfum version of Tom Ford's ombre leather. I know most of you might be confused between both, and want to know which is better. Don't worry, in this article, I will go through the differences between both fragrances and conclude which is a better version. 
I have tried samples of both fragrances and I will give my honest review in this article to make sure you get clear about your pick and spend your money wisely. 
This blog might contain affiliate links
---
Tom Ford released ombre leather in 2016. That became a huge success but later in 2018 they formulated the DNA of the 2016 ombre leather and released the EDP version.
Straight to 2021, Tom Ford released a parfum version of ombre leather instead of reformulating the old one. So let's find out which is a better version of ombre leather EDP or ombre leather parfum. 
---
Tom ford ombre leather vs parfum
The main difference between both the perfume versions is that parfum is more on the sweeter side, whereas, the original ombre leather is more raw and masculine. 
Notes 
The top notes in the parfum version are violet leaf and Ciderwood(violet leaf really stands out in the opening). In the mid notes, you get jasmine and orris. Lastly in the base notes, we have leather, tobacco, and woody notes. 
On contrary, if we talk about the EDP version of ombre leather then the prominent notes are cardamom in the top notes really shine out until the leather and jasmine come out in the front row on the dry down. At base notes, we have  Amber, Moss, and patchouli
---
Smell 
Tom Ford ombre leather is a warm, spicy and creamy fragrance with a beautiful blend of leather, cardamom, and jasmine. It has a masculine aura, which draws the attention of ladies. 
Similarly, if we talk about Tom Ford's ombre leather parfum, then it is less creamy and buttery, it is more inclined towards woodiness and freshness.
It also shares the same DNA but initially, you will feel the violet note in the parfum version, which really feels refreshing. 
Overall, it is also a strong scent with a woody leathery, and refreshing fragrance. The green notes really shine out in the parfum version. It is deeper and darker on the dry down. 
If you have smelled the older 2016 version of the ombre leather, then you will pick up a similar smell.
The older version also has a violet leaf in its opening and that is what you get in the parfum version as well.
But the main difference is that the parfum version is more intense and darker than the 2016 version. 
People also compare the smell of the parfum version to the Tom Ford Tuscan leather. And I think, it does smell similar but also different at the same time. Tuscon leather is a stronger version of ombre leather parfum I think. 
Check out the ombre leather EDP version on Amazon 
Check out Ombre leather parfum here – the Parfum version
---
Longevity
If we speak about the longevity of the ombre leather EDP version, then it can stay on you for about 8 to 9 hours. On clothes, it can go up to 12 or 13 hours. Assuming you are spraying 3 sprays of it. 
On contrary, if we speak about the parfum version then it can last on your skin for up to 10 hours or more, depending on how many sprays you used. On clothes, it can give you 15 hours or so. 
I recommend you not go overboard with any version of tom Ford ombre leather. It is a strong scent and 5 sprays of it can give you and people around you a headache. So 2 -3 sprays of it, are more than enough. 
Related: Dylan Blue Vs Eros 
---
Projection and silage
All perfumes that come under Tom Ford house provide excellent projection and silage. And it is not different for ombre leather EDP and parfum. 
Ombre leather EDP can project 3 to 4 feet far in the air and can maintain that for 3 hours. After that, the projection starts decreasing and it becomes closer to the skin. 
Similarly, ombre leather parfum can project about 4 feet in the air for about 3.5 hours. It drops a little bit after that but still one can smell it from some distance. 
The silage of both fragrances is great. So, in silage and projection, ombre leather both versions are up to the mark. 
---
Who can wear it?
Tom Ford mainly targets mature customers. Not only that it focuses more on the alpha side. Most of Tom Ford's perfume collection is dark, and intense and gives a bad-boy vibe.
So, if you feel you are that type of guy and you can pull it off then you should definitely try these fragrances.
However, I suggest you do not opt for this if you are still in college or studying as it smells mature.
Well, some people say ombre leather parfum can be a unisex perfume, but for me, it is not. Both ombre leather versions give a masculine vibe from the opening to dry down. 
The best time to wear an ombre leather EDP version is during winter. On the contrary ombre leather parfum can be used during fall, and spring as well, as it has a fresh and clean opening and is lighter than the original EDP version. 
Related: Dior Sauvage Vs Acqua Di Gio
---
Price
Tom Ford only has two options for ombre leather parfum i.e 50 ml and 100 ml bottles. If you want 50 ml then you need to pay around $165. A 100 ml bottle of ombre leather parfum will cost you around $205. 
Most people find Tom Ford overpriced, but it is Tom Ford and the brand name itself is a status. But it is not only that its fragrance is famous because of its brand name.
Tom Ford created their own niche fragrance that focuses more on leather fragrances. Most of the ingredients used in Tom Ford fragrance are natural and cost more than synthetic notes.
However, there are always some synthetic notes in every perfume, it doesn't matter if it is a $1000 fragrance. The only difference is that synthetic oils used in designer fragrances are much more blended and of high quality, leading to high prices. 
---
Tom Ford ombre leather vs parfum, which should you buy? 
Both versions of ombre leather are perfect in terms of mass appeal, longevity, projection, and silage. I really like both the fragrances, but for a starter I recommend Ombre leather EDP, and for a person who already has a leather scent in their collection, ombre leather parfum is a better pick. 
If you have never tried a leather fragrance before, I would recommend you a 2018 ombre leather EDP. However, if you have already tried out the EDP version then you will love the newest parfum version.
The Parfum version is more strong in the opening, so I suggest you first let settle down and then smell it. On the dry down, it becomes more pleasing and likable.