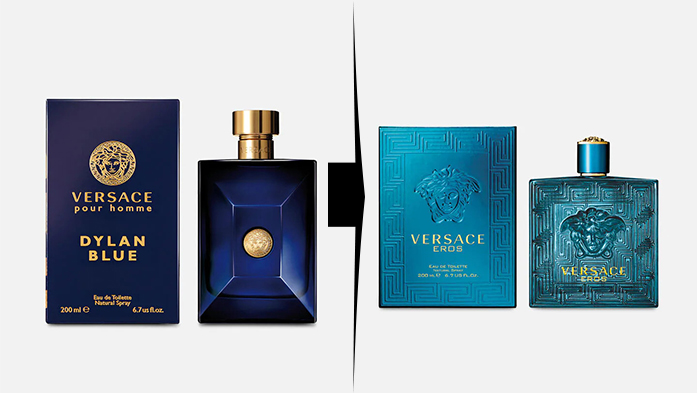 Dyan blue and eros are both designer fragrances for men by Versace. Both fragrances come in the category of blue fragrances. And both fragrances are popular around the world. But both are different and smell different from each other. So, if you are confused about which one is best for you between Dylan blue and eros then find out in this article. I have tried both fragrances myself and I will give my honest review about both fragrances. But before we jump out which one is best, let's know the difference between these two scents. 
---
Dylan blue vs eros
The main difference between Dylan blue and eros is the notes of each perfume or ingredients used to make the perfume. They have similarities like they smell fresh and come in a blue family pack. 
Notes
In the top notes of Dylan blue, you get Bergamot, leaf, aquatic notes, and grapefruit. dominant notes in the top notes are of course Bergamot and grapefruit note that you can sense as you spray it on you. at mid-notes, you get Patchouli, pepper, papyrus, violet leaf, and Ambroxan. Ambroxan is the dominant note folwed by pepper patchouli. In base notes, you have musk, Tonka, saffron, and incense.
The ambroxan note in Dylan blue is what makes the smell of this scent magnetic. Though it is a lower version of the original ambergris. The reason why you do not get the original ambergris in Dylan blue is that it is very expensive. So, the price of the fragrance would be very expensive. 
Ambroxan and bergamot are the dominant notes of this fragrance that make it smell fresh and masculine. 
When you spray the scent you get a fresh smell but when you let it dry down for one hour you will also start to get the sweetness of it. Which gives an evening vibe. 
Notes used in eros Versace are Tonka Beans, Amber, Geranium Flower, Cedarwood, oak moss, and Vanilla.
The prominent notes of eros are apple, mint, vanilla, and Tonqabin. The mix of apple and Tonka beans is great in this perfume. It is a blue perfume but is also thicker and darker.
Presentation
The presentation of Dylan blue is simply classy and elegant, you get a dark navy bluish bottle with a metal medusa symbol in the middle. The same symbol you will see on the top of the atomizer when you open the cap. If we talk about the atomizer on it then I would say it is pretty strong, you get a good spray pressure.
Personally, I love the presentation of eros more than Dylan blue. The quality of glass used to make the bottle and the Greek goddess on the front makes it look richer. The color of the bottle is also different from other blue fragrances, it is more of a torques color. Overall the bottle of eros feels heavy and premium when you hold it.
If we talk about the atomizer then it is good but not as good as some other blue fragrances like Dior Savage or bleu de Chanel.
Smell
If we talk about Versace Dylan blue then it is most likely a fruity smell, which is mass appealing and most people love this smell by default. The patchouli and ambroxan note in it gives an earthly, masculine, and naturistic smell. So if you want me to say in words how it smells then it smells refreshing and clean. You can describe the smell as a shower gel smell as it smells just like that fresh. But as you get down to 1 hour, Dylan blue starts to get a little bit darker because of the pepper, incense, musk, and Amroxin combination.
If you have a Dior sausage and Armani Aqua di Gio, then mix them together and you have a somewhat similar smell. So, yes it smells premium and rich and also has a mass pleasing smell.
For sure this Dylan blue smell is a compliment-getter, this might be the most complimented perfume in the market. I speak this from experience. I have asked my female friends and every one of them loved the smell of Dylan blue.
On contrary, if we talk about Versace eros then it also smells fresh but stronger and heavy than the Dylan blue. This is why 3 sprays of it are more than enough on your skin if you are going to an office or for a casual outing in daylight. 
In the opening, you get a fruity apple, mint, and citrus lemon refreshing smell. But as you let it drown down for 40 minutes you start to sense woody and leatherish notes as well. After 2 hours you will start to get a sweet and seductive smell. 
Though eros has a strong smell, still it is not that fragrance that can offend people around. Most people, especially girls, love it because it has a masculine vibe attached to it. 
Projection 
In the case of projection, Dylan blue projects well at starting, but after one hour down it starts to get weak and projects less. Projection also depends on how much of it you spray on yourself.
When we talk about eros projection then it is pretty good, I mean better than Dylan blue. You get a solid projection for 2 hours which is almost double of Dylan blue. The silage of this perfume is also good, creates a good trail.
Longevity
The longevity of Dylan blue is good. When I sprayed this one on my skin, I could smell it for 9 hours until it fades away. So, in terms of longevity Dylan blue is good and you can bet on this perfume. If you spray this on clothes then it can last up to 11 hours or so. 
If we talk about eros then it can last you 9 or more as it stays on you for longer than the Dylan blue because it has more depth in it. 
Eros has a strong aroma so if you want to use it during the day, make sure to not spray more than 3 sprays of it. However, if you are using it for a party or club then you can spray 4 or 5 sprays as well. 
Related: Polo Blue Review
Price
Versace Dylan blue will cost you somewhere around $50 on a discount, depending on what size you are opting for. This might be the only affordable designer blue fragrance, Which is a budget-friendly price for a tested, tried, and compliment getter designer perfume. I find the price for this perfume is best by looking at the performance and smell.
So, if we talk about the original eros version which is the EDT version and was released in 2012, then it will cost you around $96.
The latest version of eros, which is released in 2020, will cost you around $79 . Again I think the price is valid for this fragrance, not to forget that this is one of the best blue fragrances out there.
From the quality of the bottle to the overall performance I think it deserves this Price. 
Best for
If you are between 20 to 30 years of age then it can be your signature scent. Not only it will get you compliments but also a versatile fragrance that you can wear in the day and evening as well. Dylan blue is a perfect summer and fall fragrance.
Eros is a fresh scent but at the same time, it is not as light as you expect it to be. It is fresh but thick at the same time. So, you can say that it works best in the evening than in the day.
The best thing about this perfume is that it is so versatile that you can wear it in all three seasons. If you are above 25 then it will suit you best.
The smell of Eros is more mature than the Dylan blue so it is not a good option if you are a teenager or still in college or school.
---
Dyan blue vs eros which is best? 
Both Dylan blue and eros are the top two best fragrances by Versace. Both perfumes belong to the same category but smell different from each other. When it comes to choosing the best between Dylan blue and eros then I would go with Dylan blue for evening time as it smells great in contrast to eros and is also a little bit sweeter. I have tried both fragrances and the number of compliments I get from Dylan blue is more than eros. 
However, I would say that if you want to smell different and unique then go with eros, eros is best if you are above 25 as it is a more subtle and mature fragrance. If you love a fresh, masculine scent with a touch of little sweetness then go with Dylan blue. But if you want to add the character, then eros is a classic pick. 
Even if I have to compare all the blue fragrances like blue due Chanel with Dylan blue, my bet would be always on Dylan blue. It is a must-have fragrance for any man in their wardrobe. 
In terms of performance and quality, I will prefer the Versace eros Edp version. In terms of smell, mass appeal, and eye grabber, Versace Dylan blue is a clear winner for me. 
Moreover, if you want to gift someone perfume, then Versace Dylan blue is a blind buy. 99 percent of the time the receiver will love it. You can buy Dylan blue without even testing it as it has a smell that everyone loves. 
Before you make your choice I will suggest if you are buying a Versace eros then go with EPD as it is much better and performs better than the EDT version. However, if you like sweetness in a perfume then the EDT version will be more pleasing for you as it is less strong than the EDP version.