You've probably heard multiple times how exercise is "good for you". Whether it is yoga or gym, exercise has become the need for today. 
You already know how much exercise is good for you. What you may not know is just how important is a good mat for your body while you exercise. Be it gentle stretching or high-intensity cardio, you need a suitable mat.  
There is a range of options from fitness mats, yoga mats, or foam mats.  Exercise mats come in different shapes and sizes to suit different types of workouts. Among the most popular yoga and fitness mats,  you may think that every mat is the same for all exercises. If you think this, think again. Different mats have different support levels and firmness that suit different postures. 
That's what this article is all about to let you know the difference between the popular yoga mat and an exercise mat.
Yoga mat vs exercise mat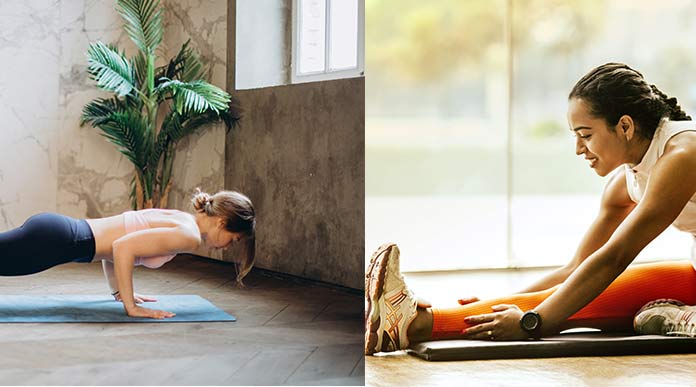 Mat is basically a support cushion to prevent your body from injury. While you workout without a mat, the chances are more of slipping because of the less grip between the hands and the floor.
Yoga mats or exercise mats what is the difference? The basic difference you find between the two is thickness. 
Thickness
The percentage of thickness and firmness varies in yoga and exercise mats. Yoga mats are generally thinner with a firm surface. Because yoga poses are performed barefoot in contact with the floor, requires stability and balance. 
Standard Thickness of yoga mats = ¼ to 1 inch. 
Standard Thickness of an exercise mat = 1 to 3 inch
Length
Most mats you find at the fitness gym are thicker and shorter in length than a yoga mat. Yoga poses are somewhat done while lying down flat, so it's no surprise you will need a longer mat than your body height. 
A standard sized yoga mat is 24″ x 68″
While a standard, shorter exercise mat is used for post-workout stretching or abs exercises. 
Grip factor
The grip factor of the mat may be the measurement to which you should pay the closest attention. 
Yoga mats are specially fabricated mats used to prevent hands and feet from slipping. That's why these are known as sticky mats because they offer lots of grips. 
Unlike HIIT or weight training, yoga is an exercise of stability and flexibility. The firmness of the yoga mat makes it easy to hold and balance the body than thick exercise or gym mats, best suited for floor-based and bodyweight exercise. 
Cushioning
Yoga mats are cushioned but less than exercise mats. These are only designed for light exercise, therefore, do not need cushioning. 
While exercise mats also known as gym mats are well cushioned. These are coated enough to prevent soggy at a place after a long workout. 
Durability
Without a doubt, exercise mats are more durable than a thin yoga mat. Exercise mats thick providing resistance to wear from sports shoes and hold for years. 
While a typical yoga mat has to be replaced in few months. You can however look for quality materials for a yoga mat. 
Portable
Although exercise mats are durable, thick they are not travel friendly. Yoga mats are lightweight and can be easily packed up in your bag. 
Materials
You can find yoga mats made from materials like: 
closed-cell PVC
cotton
mesh
rubber
You will find exercise mats made from closed cell PVC with a vinyl coating. 
Can you use a yoga mat to workout?
The answer is NO! It's simple as if you are doing a lot of jumping or lifting or HIIT you need a mat that is strong and provides support when you are working with your shoes on. In that case, yoga mat won't be able to get you easy. 
Consider a yoga mat only when you are toes off for more comfort and balance. Exercisers need the ability to feel the floor while doing yoga poses. Because if you look at the history of yoga, it is associated with the contact of the ground. The purpose of a thin yoga mat is to help you stay close to the ground. 
But gym or exercise mats are a whole different. You have to increase the thickness for additional support. Never perform exercises like dumbbells, bench press, kettlebell, barbell at or near maximal level without an exercise mat beneath you. 
Read Also: Yoga Stretches Before Running
Which mat is the best for exercise?
Exercises have become an important factor in today's living. A mat of adequate size and shape is an additional boost to your workout sessions. With so many varieties available in different patterns selecting an ideal mat for exercise and yoga is a must. Here we have mentioned some of the mats which you can give it a try.
Best mats for Exercise
Innhom Gym Mats Exercise
Exercise mat that can cover a large surface area to ease your workout routine. The pieces are interlocked together to create more space. The materials used in making are nontoxic that gives a boost to eco-friendliness. The most important thing to consider while working out is the firmness that a mat can provide to us. These mats are built with nonslippery materials to avoid any mishap during exercise. In short, these mats are safe that are manufactured using premium quality and high-density foam, they are also lightweight, waterproof, and easy to assemble mats and hence durable mats. 
Cons
The mild cons that this particular product is facing are With so many pieces in hand, sometimes it becomes a difficult task to adjust them. They are thick for an average workout. But compared to the price it can be ignored. 
BalanceFrom GoFit Exercise Mat
This exercise mat Measures 6.5-Feet (78-Inch) long and 3-Feet (36-Inch) wide that ensures comfort and prevents damage to any floor type while you're busy exercising on your Equipment such as heavy treadmills, etc. These are built using High-density material for a longer duration and to provide comfort. The easy to clean material saves your time. In addition, it absorbs all the unwanted sounds that are caused by equipment. This mat can be used outside but make sure to dry it up from time to time. 
Cons
This product does have some cons. The equipment you put on this mat is heavier, so it allows the machine to create indentations in the carpet and makes it slightly more difficult to completely level the machine. 
Sunny Health & Fitness Exercise Equipment Mat
Lightweight Exercise mat made with high-density EVA foam material. Cleaning the mat is super easy and good for the long run if properly maintained. The mat offers water-resistant properties, thus beneficial for indoor activities. Mostly preferred for indoor, it prevents the floor from getting damaged and absorbs vibrations. High -density, non-slip performance mat provides unmatched durability and cushion. An excellent mat to bear toughness and boost stability. In short, quite an affordable exercise mat with ideal features in this price range.
Cons
Although it's recommended, it somehow not exhibiting its full support, thus the mat is not as thick. 
Read Also: How to Detox Skin from Inside Out?
Best Mats for Yoga
HemingWeigh 1 inch Thick Yoga Mat
There is always a need for a mat while doing Yoga. An ideal yoga mat is one that doesn't skip and exhibit properties for more comfortable yoga sessions. Exclusively designed with a superior material for longer durability and won't easily get torn off. Premium cushioned for more comfort and 1 inch of thickness for better support. The easy strapping feature, eco-friendly material, and easy to clean mat can be carried along with you to any place like yoga classes. Quality material product in the low price range. 
Cons
The smell is the only thing that might disappoint you. But the smell will eventually dissipate. 
CAMBIVO Wide Yoga Mat
Yoga requires stability, and it is uncomfortable to do the balancing postures on the floor. So, a yoga mat is a must to provide you with the required support. CAMBIVO yoga mat is versatile and has a double anti-slippery surface made from cushions that are comfortable. Easy to balance with its good grip and firm rubber surface. A yoga mat that is kind to the environment as well means designed with superior and eco-friendly material. Offers qualities that are worth the investment. 
Heathyoga ProGrip Yoga Mat
Looking for a yoga mat that is stable even when you sweat a lot. Then heathyoga ProGrip Yoga Mat is the most recommended one on the list. With an anti-slippery surface and perfectly cushioned foam that provides support during yoga sessions is an ideal mat that everybody demands. Lightweight material makes it easy to carry along with you anywhere. So, why not invest in the best.  Make your choice and start enjoying the benefits of this stylish yoga mat. Eco-Friendly and Odorless are the other two properties that make it more noticeable. 
Cons
The stains that remain afterward is the drawback of this yoga mat. Maintenance is of utmost importance, so clean the mat after every practice.
For more related articles check Worldzfeed.