Polo one of the versatile and essential item for men's wardrobe that you can rock in summers. Polo shirts are the best option for Summers for men providing different options for different occasions. You can wear a polo on formal occasions and casual occasions as well. Polo shirts are a great option for every men in summers and any men can rock a polo style if put well together.
Polo shirts are a combination of shirts and t-shirt creating a semi-formal touch. Wearing a polo shirt will showcase and enhance your physique, so before you learn how to wear polo first calculate how to buy a perfect polo for you.
How to Wear a Polo
Wear a polo with trouser, formal shoes for formal look
If you are a men who work in a professional field, polo is the best option for you in summer. You need a polo shirt, trouser, belt and a nice formal pair of shoes. All you need to keep it simple and classy. When you dress for polo for professional work make sure to tuck-in to get out the formal vibe.
Wear a polo with trouser, blazer, formal shoesfor event look
Are you a men who travel a lot and always attends lots of events then no go further this is the best look for you that you can rock in any event or while traveling. To get this look you need – trouser, belt, nice pair of formal shoes, and add one extra layer with the blazer. Adding an extra layer in your outfit takes your game to the up level.
Wear a polo shirt with jeans and sneakers for a casual look
Do you prefer a more casual look over formal? Well, we don't always need to carry a formal look most of the time we prefer a casual look in our day to day life. This look provides you a great option that you can rock in your college, dating, or any other casual occasion. To get this look you need- jeans or cotton pants, sneakers, and carry a polo shirt without tuck-in.
Wear a polo with trouser, loafers for semi-formal look
Are you men who believe in something different with their outfit then this option really works for you. This style gives you a semi-formal look that you can carry on casual occasions also. To rock this look you need trouser, well-fitted polo shirt and to give the great finish to outfit a good pair of loafers, if you don't know what loafers are best for you to check out this article -​ best loafers for men in 2020. ​Loafers give a semi-formal touch to the outfit with a clean and stylish finish.
Wear a polo with shorts  for beach look
Well, summer vacations are here and if you are a man who loves to go out to spend your holidays than this option is for you, besides that you can also rock this on casual occasions like walking, beach, etc. This is a great option for every man and everyone should have this outfit in their wardrobe. To get this style you need a polo shirt complimenting your shorts and a nice pair of flip flops or you can go with loafers or sneakers it's the best option.
Wear a polo shirt with blazer and jeans​ for unique look
This option works great if you are going for an interview or any business meeting. By adding the one extra layer with blazer combined with the right color of jeans gives a formal finish to your look. To make it look fully professional add a nice pair of leather boots that complement your whole outfit.
Wear polo shirt, cotton shorts or a pant, sneakers for sports look
This will gives you a fresh and clean look that you can rock on casual occasions. The difference between the beach and this one is very slight you only need to have a nice pair of white sneakers or other and a polo shirt tucked in. Tuck-in a polo shirt when you wear a polo shirt with sneakers and shorts to get out the most of it.
Things to stand out in polo shirt
Match the fitting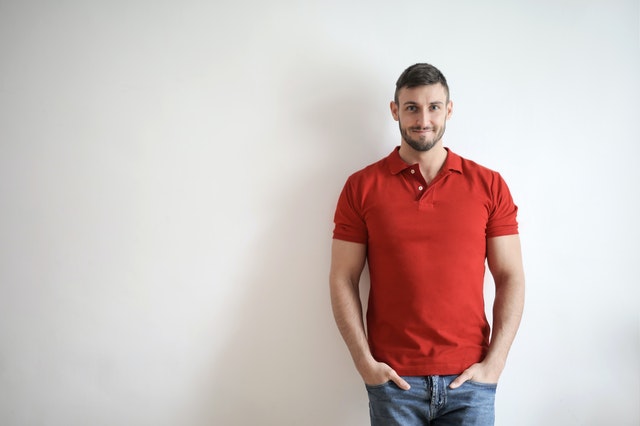 Fitting a polo perfectly that compliments your body is a goal. First thing first –
● Shoulders – start with the shoulder area, if the length of your polo shirt exceeds your shoulders endpoint than polo is big, If shirt shoulder line comes up on your shoulders than the polo is tight, you only need to buy a polo shirt that's shoulder line sits on the endpoint of your shoulders.
● Arm length- Arm length of a shirt exposes your arm area and defines the fitting of the shirt. If the arm length of the polo is exceeding your mid biceps area then it is too large for you, if arm length exposes most of your biceps then the polo is too small for you. You need a polo that fits your mid biceps area which makes your biceps look wider.
Buttons – Polo is a mixture of shirt and t-shirt but the buttons in a polo add the formal look in it. When buying a polo make sure the buttons end in your mid-chest area, you don't need longer than that.
Color that compliments you – color plays a very important role in how it will look on you. Avoid prints and big brands logo on a polo shirt.
Collars- avoid the color that doesn't get up straight or are not the good structure you need a well straight up collars that keeps their structure when you open up the buttons.
Length – make sure the length of your polo doesn't cross your upper to meet crotch area and you also don't need a shirt that is shorter than your belt area. Always choose a slim polo shirt that fits you, don't go for too tight or too loose. Pull the combination that compliments your body and body tone.
There are various ways to wear a polo which matches the vibe of the occasion.