Levis is one of the beloved and popular brands among people. 511 Levis jeans are one of the ultra-popular pairs of jeans out there. The reason why Levis is so much popular is because of the quality and different shades one gets in Levis. Personally, I'm a big fan of Levi's jeans because of their fabric and durability. However, the durability of Levis decreased over the years for some reason. Some people blame the Levis for making jeans out of the US. So, Where is Levis made? That is what we are going to discuss in this article. 
Out of curiosity I have searched the web and looked on Levi's website to collect the detail of the origin they are Manufactured. In this article, I will put more emphasis on Levi's jeans as they are why Levi's is recognized all over the world. 
---
Where Levis is made?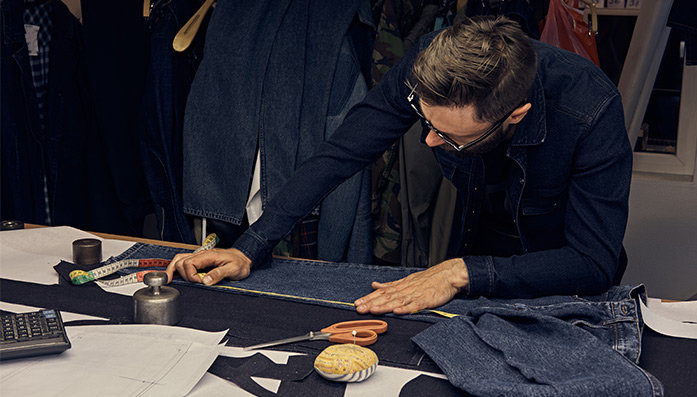 Most of the Levis products now like jeans, shirts, and t-shirts for both men and women are made in developing countries like – INDIA, CHINA, VIETNAM, SRI LANKA, INDONESIA, Bulgaria, Pakistan, turkey, etc. The reason why Levis makes jeans and other items in these countries is to cut down the labor cost as labor is very cheap in these countries in contrast to developed countries like the USA or UK. 
Besides, cheap labor, the other reason why Levis use developing countries is to diversify their business and gain the top position in the countries. As developing countries have huge opportunities for companies to expand their business. People are also more likely to trust a product that has already passed the test of time like Levis. 
MostlyLevis use Asian countries for manufacturing purposes. The main reason is to earn more profit by cutting down the cost of materials and labor. There is other financial stuff as well which make job for big companies like Levi's easier. 
---
How to know where Levi's jeans is made? 
The best way to find out where Levi's jeans are made is to visit the store instead of buying them online. 
The online web store of Levi's can merely provide you with information of the origin you want to know. Most of the products on Levi's online store are defined as imported. So, it is hard to know where exactly they are made. 
However, this is untrue for offline Levi's stores as they give you more information and tell you about the origin specifically. 
Sometimes you do find the origin in an online store but as I have already searched for a lot of jeans on Levi's online store I find imported written in the end. This sums up that Levi doesn't want you to know the country of origin for specific reasons but that doesn't mean jeans are of bad quality. 
---
Are Levi's jeans made in the US? 
No, Levis stopped manufacturing jeans in the US after 2002, when it closed all the stores in the country. The main reason behind it is the huge losses the company was facing year after year, after closing the highest profits of 7 billion dollars in 1996. 
However, you can still find some of the jeans on Levis that are made in the US, but that is a very rare case. 
After a huge jackpot, Levi's profit margin starts decreasing. The company is investing too much in labor and manufacturing processes. Everything from the material to chemicals used during manufacturing, everything was too expensive in developed countries in contrast to developing countries. 
In the year 2002, Levis decided to stop all the manufacturing plants in US and Canada and instead shifted to Asian countries. 
---
Are Levi's jeans made in China? 
Yes, Levi's jeans are made in China along with other accessory items, shoes, and clothes. 
Jeans on which origin is not disclosed are likely made in China. Most of the jeans you see on Levi's website that has an imported tag on them are made in China. 
As discussed above, the brand doesn't want the customers to know about it as that will decrease the trust of customers, and that is the last thing any brand want. 
While this is not always true that imported means made in China. As per the latest conflicts between the US AND China, Levis is increasing its manufacturing plants in other countries and cutting down in China. So, the tag that says important on Levi's website, can also mean that the jeans might be made in Bangladesh, Pakistan, or India. 
The proof that the company is now depending on other countries in contrast to China for manufacturing purposes is clearly seen when you see a lot of Levi's items like jeans made in different countries rather than China. 
Related:What Are Jeans Made Of ?
---
Is Levi's jeans ever shift to the USA in the future? 
There is a high chance that Levis might shift its manufacturing to the USA or nearby countries and the main reason to predict that is the new automation used to make Levi's jeans. 
With new automation, now the company not only reduce labor cost but also become time efficient. The jeans which uses to take 20 minutes to die now only take 90 seconds to finish. This is a laser technology that Levis patented a few years back. 
The change that this automation brings to the jeans industry is striking according to Levis officials. Earlier where jeans are distressed manually by workers after getting a design from a designer used to take a lot of time.
First, a worker used to apply the chemical on the jeans and use the sandpaper to distress the jeans and make holes. This combined slows down the process of manufacturing. 
The overall result of this technology is less labor cost and speeds up the manufacturing process multi-fold. This according to companies official lead to more profits and prevent the out-of-stock problem. 
It is not easy to say that company will entirely move to the USA and set up all manufacturing plants there, as it is too difficult and risky at the same time for big companies like Levis.
However, you can expect that company might set up new manufacturing plants in the USA Or neighboring countries like Canada and Mexico after the success of the automation technique, to save the shipping cost, and at the same will also continue its manufacturing I'm Asian countries. 
---
Are Levi's jeans good? 
This question has been a hot topic for many years as no one has a clear answer that sounds truthful. But there are some facts that even Levis can not deny. 
Yes, Levi's jeans are good and durable. Levi's jeans are the most beloved jeans all around the world because of their comfort and durability. 
Though not all Levi jeans are as good as others. Some Levis jeans are not made of 100 percent cotton and also have less pricing. But Levis is an old player, and you get a lot of good-quality jeans that are worth every penny.
Good quality Levis jeans like 501 or 511 can last you as long as 10 years if you follow the proper care instructions on the care tag.
Related :Levis 511 vs 512 : Jeans Difference 
However, there are some facts that are deniable about Levi's jeans. Firstly, Levi's jeans are not that durable as compared to vintage Levi's. Levis that are made before 2002 hold more value than Levis jeans made after 2003.
The reason is shutting down all manufacturing in the USA. as now most Levi's jeans are made in China so it is hard to say that Levis are still the same. But this is the case with most of the popular brands like American eagle and wrangler. 
But if we look at the material used in the making of Levi's jeans, then there is not much. The same cotton twill fabric is used to make Levi's jeans which is the best quality fabric for jeans or denim. The only change is the blends, as now Levis use elastane-spandex or Lycra with cotton to add some stretch to the jeans.
Earlier vintage jeans used to be made of 100 percent cotton. The use of blends rarely impacts the quality. Elasticity in jeans becomes important after the Introduction of skinny or tight jeans. 
---
How to buy Levis jeans made in the USA?
You can still find Levis jeans made in the USA but what is hard to find is the vintage Levis jeans. Here we are talking about Levis jeans made in 1967 or the '60s. The original Levis 501 is the main foundation of denim jeans and it is hard to find one in the market now. 
---
Why you should look for vintage Levi's jeans made in the USA? 
It is an open fact, that Levis jeans are not the same jeans that you used to get in 1960 or 1970. Vintage jeans were easy to break in and they feel more comfortable and last you longer. However, there are jeans on the market labeled as Levis Big E, which originally are not vintage jeans. 
So where to buy vintage jeans made in the United States and how to know if it is worth your investment? These are some questions that every jeans lover wants to know. 
First, you should know what jeans are you looking for. For me 501 and 502 Levis jeans are irreplaceable and worth buying even if they are old. You might not get the same stretch you get now in Levis jeans, but you are not paying for Stretchability but for the worth of the jeans. 
Also what is best about the Levis 501 and 505 pairs is that it is hard to sell these jeans by scamming as they are most abundant. 
You can buy vintage jeans from online stores like eBay. Or from Levi's second-hand portal, where you can buy old Levi's jeans. Now before buying any vintage or old Levis, one must know if those are worth your investment or not. 
If the price seems too much simply back down and look for other pairs or buy new ones. The old jeans should cost you less than the new Levis pair.
For instance, if you want to buy Levis 501 jeans made in the USA, which means before 2002 then it will cost you somewhere around $50 to $130. However, one should not buy old jeans if they cost the same as a pair of new jeans unless your only interest is to buy vintage pair of Levis. 
Lastly, you need to check if the Levis jeans you are buying are made in the USA or not. 
The best way is to look at the care tag on the jeans. All Levis jeans that are made after 1970 should have this tag, because of the laws implemented in 1970. If the jeans you are buying have a care tag without the line made in the USA, then it most likely is not an authentic pair. 
The price you pay for vintage jeans is totally under the control of the seller. Sometimes sellers are not aware of the true worth of vintage jeans, so they can sell for more than they are worth or way less than their worth. If you find authentic vintage jeans that cost you way less than new jeans then you are lucky as you are getting jeans at discount. The reason why vintage are jeans sold at discount is that sometimes they are stolen or sellers want money immediately. 
However, this is not always the case as you may find yourself in a world of vintage jeans which are overpriced. If you find this then it is better to go with Levi's second jeans archive. The best thing about buying vintage Levi's from second Levis jeans is that you don't have to pay extra fees for shipping and processing. Moreover, you have a lot of options to choose from, in different shades and sizes. 
---
Where are 501 and 505 Levis jeans made? 
Just like other Levis jeans, Levis 501 and 502 are also made in countries like Bangladesh, China, Egypt, Bangladesh, and other Asian countries.