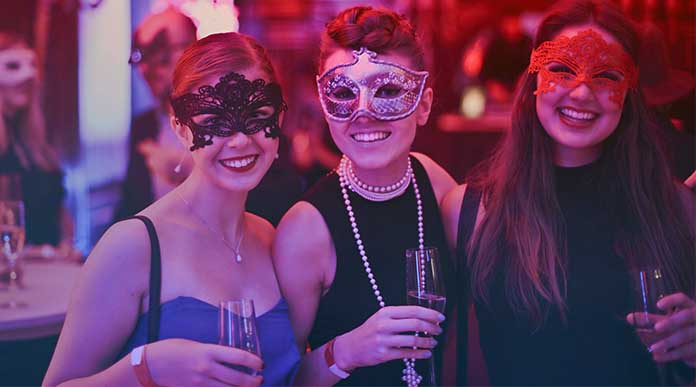 Bored of watching the same movie over and over and looking for teenage mystery movies on Netflix filled with thrill, adventure, and high school students. You are at the right place, In this article, we picked out the best teenage mystery movies on Netflix which are very well appreciated by critics and loved by the audience. From The Maze runner series to Nancy drew series we, picked out the best teen mystery movies where teens solve the mysteries with little help from the adults.
You may also like:
Here are the best Teenage mystery movies on Netflix list:
Nancy Drew
What's it about: This teenage mystery movie depicts the life of a young girl after the death of her mother when she was 16 years old. She and her father move to different locations to get away with the pain that Chicago city has given them. In her home town she encountered the death of movie star Dehlia Draycott.
With the will to solve mysteries, using detective skills and her father she starts her journey to solve the biggest and unsolvable mystery of the town. She is known as the female Sherlock Holmes.
Nancy Drew and the hidden staircase
What's it about: Similar to its predecessor, Nancy drew, begins with the same origin story, Nancy drew and her moved from Chicago to River heights. Nancy drew a fan of solving mysteries and crime from her childhood and it got her into a lot of trouble in school. This time Nancy comes across a mystery that involves a ghost.
An elderly woman is frightened by the ghost in her house, so it's up to Nancy to find out, is there a ghost or someone is scaring the lady. To find out, don't miss this amazing teenage mystery movie.
Dora and the city of Gold
What's it about: This amazing teen mystery movie is based on the adaptation of the animated tv series Dora the Explorer. Apart from a teenage mystery movie, this also has a high school student life when an out of town girl adjust to the lifestyle in the city and her struggle to be one fo them.
When Dora's parents go missing on her journey to find the city of gold, Dora along with her friends starts their quest to solve the unsolvable mystery of the century. They go through quicksand, Inca ruin puzzles and also attacked in their journey. This movie is a combination of thrill and mystery which makes it a binge-worthy.
The Maze Runner Series
What's it about: The biggest blockbuster teenage mystery movie of the decade and adaptation of James Dashner's 2009 novel of the same name. The first installment begins when a young boy, with no memory of his past, finds himself in an elevator with 100 people around him. All of the people are stuck inside the center of the maze and the only way out is to solve the mystery of the maze.
To solve the mystery, they formed a group Called Runners, who runs inside the maze in search of a way out. If they couldn't able to walk out of the maze after the door closes, they are going to die in the maze.
The movie is filled with the mystery of the maze, who and why someone put them inside the maze. It consists of three parts and every part is under the list of teenage mystery movies on Netflix.
Tomorrowland: A World Beyond
What's it about: Released in 2015 this is an American science-fiction mystery adventure film directed by Brad Bird. The film follows a young curious girl Casey and Frank former inventor of jetpack. Years ago, Frank invented a jetpack but it didn't work, but somehow he is transported to Tomorrowland, a futuristic cityscape, where advanced robots fix his jetpack, which allowed him to fly and join the secretive world.
Casey also visited the cityscape, but not for a long time, so to gain information about saving the world, that both begun their journey to unravel the secret mystery behind the Tomorrowland.
Nerve
What's it about: This teenage mystery movie, begins with the life of high school student Vee Delmonico (Emma Roberts). She is always on the sidelines and has never been popular in high school. To do something exciting, she joined an online game Nerve, which gives challenge players for a dangerous dare.
After every dare, the new dare is more dangerous and she got sucked right into it. Now Vee has to solve the mystery behind Nerve, as it determines the entire future of her life. The teenage mystery thriller movie is filled with an amazing cast and brilliant cinematography, which make this a must binge-watch.
Abduction
What's it about: This teenage mystery movie begins when a boy is abducted when he was three years old. He was traumatized by the incidents and has nightmares after 14 years of abduction.
The mystery begins when he learns that he was adopted to save from bad men. As this discussion takes place his adoptive parents are shot dead, and now it's up to Nathan, to find out his birth parents and why and who abducted him years ago. The movie involves violence and thrill at every corner, it's a must to be in our list of teenage mystery movies on Netflix.
The Lovely Bones
What's it about: The teenage mystery depicts the life of a 14-year-old girl Susie Salmon. One her day from highschool to her hoke, she was encountered by her neighbor who coaxes her into an underground shed he has build. He kills her, but she doesn't manage to go inside heaven, as she has unfinished business left on the earth.
Her disappearance causes the biggest mystery and police have to love this mystery about her death. Who and why she disappeared or did she was skilled. As there is no evidence of her being alive or dead. To uncover this mystery watch this amazing teenage mystery movie.
The Mortal Instruments: City of Bones
What's it about: Released in 2013, this teenage mystery movie is an adaptation of the first book of The Mortal Instruments series by Cassandra Clare.  The film follows a teenage girl Clary Fray, who stars drawing a strange symbol everywhere, but she soon discovered she is a shadow hunter. Shadow hunters are a half-angel warrior who destroy the demons from hell.
This secret destroys her entire life as from drawing art to fighting demons and killing them. The mystery begins when her aunt and her mother are abducted and it's up to find the cup which could help to save her mother and aunt.
After a long time of its release, this movie still is one of the best Teenage thrill movies of all time.
Race to Witch Mountain
What's it about: Starring Dwayne Johnson, this teenage mystery movie is released in 2009 and directed by Andy Fickman. The story follows Dwayne Johnson ( taxi driver) and two teenage kids. But here is the interesting part, the two kids are aliens and seeking refuge from the alien assassin. The teenage mystery movie is filled with car chase, alien spaceships, and a whole lot of mysteries, just waiting to be solved.
The taxi driver is one of the funniest character played by Dwayne Johnson. If you're looking for a teen mystery movie with a lot of action and aliens, this is the one you should watch.