The scarf is a winter tie that can be styled with formal and as well as casual outfits. Although this defining piece of cloth adds dimension and pattern to the outfit that increases the overall look. Besides that scarf also keeps you warm and covers the naked area around your neck. As a scarf is worn in winter mostly, so it makes every man should know how to wear a scarf with a jacket. So, let's find out different options that you can try with scarves.
How to Wear a Scarf with a Jacket
Always do experiments by styling different scarfs with jackets to pick out the best. But if you are new and don't know much about how to tie a scarf, then read this article, and you will know what scarf and style suits best with which jacket.
Wear a scarf with a leather jacket
Cross over method
Easy way to rock a casual look.
Grab a long piece of the scarf and wrap it around your neck by making one endpoint of a scarf in front, and one endpoint in the back.
Leave the jacket open to add an extra layer.
Cross over knot
Best option to try with a leather jacket.
Take a long scarf and place it around your neck, now cross the ends over, next grab the one end, and tie the knot by tucking through the gap.
Leave the ends to fall down along with the jacket to compliment the outfit.
You can close the jacket or leave it open if the weather is neutral.
Best scarf colors with a black leather jacket
There are a lot of scarf options to choose from with a leather jacket because of its black color you get a whole bunch of variety and range.
Mehron
Mehron is the classy dark color that works great with a black leather jacket. It gives a more dark and sensual vibe when you wear it on.
Dark grey
Dark grey is a go-to color for your way to the mall or cafe in the daytime. The dark grey scarf is a great and versatile color option to have on your wardrobe.
Camel
To go on the more casual side. Camel is a great option that compliments the black color of the leather jacket.
Wear a scarf with a trench coat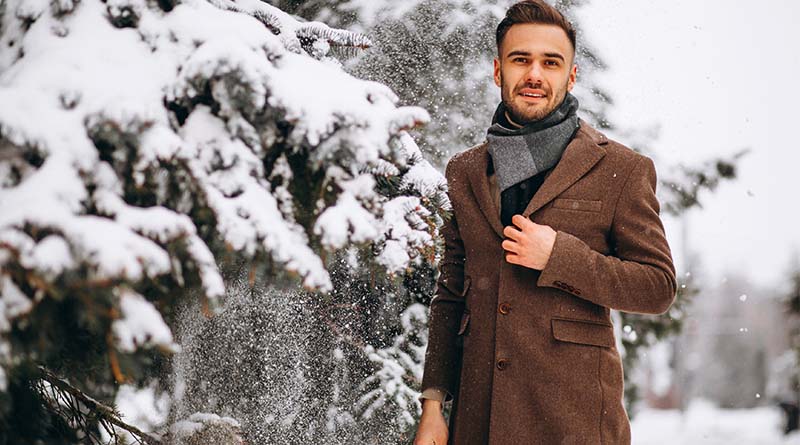 Drape
Take a long scarf that compliments the length of the cost and place it around your neck so that both ends are of the same length or even.
You can either button up the coat and leave the scarf outside or you can place the inside the jacket and keep the jacket unbuttoned. This option is great and simple but doesn't provide warmth in cold weather.
European loop
Another stylish way that not only looks fashionable but also provides warmth around your neck during winters.
Make the scarf length half by folding it from the middle, makes both the ends of the scarf at one side
 Then place it around your neck, now tuck in both ends of the scarf in between the loop.
Colors with the camel trench coat
Dark brown
Dark brown is a great complimentary color opposite to the camel trench coat. This color gives a casual and street look.
Dark grey
Go out of the box and try something different with a dark grey scarf. This looks more of a semi-formal when you match it with a camel color trench coat.
Black
As you know black is the classic option that every man should have, no matter the type of jacket or outfit you have.
Check
To go more into fashion and look stylish follow up the check trend.
Scarf Colors for the grey trench coat
Camel
Camel is a very warm and earthy color that gives a warm vibe, great for winters.
Grey and white check
Want a match and doesn't comprise on fashion, never leave grey and white check out from the list.
Black
A black scarf can be worn with a grey trench coat also. If you want to save money and want a good deal then opt for a black option.
Material
Wool is the best material to go with if you want to wear a scarf with a trench coat because wool gives a volume and keeps the neck warm in cold weather.
In some cases, you can go with cashmere material. Do experiments and you will know.
Wear a scarf with a suit jacket
Connoisseur knot
Lay the scarf around your neck, then cross the one end over the other end and bring the lower end through the gap to make the knot.
To make it look formal spread or open the scarf from the front so that it covers all the shirt and neck area.
Leave the scarf under a suit jacket and then button the jacket to keep the scarf in its place.
Noble knot
Put a scarf around your neck one with a long end and one shorter end and cross the short end over the longer one, then roll the longer end up and behind, now put it inside the gap or upper knot.
To make it look even, tight the scarf to the neck. This is a very classy and elegant option for formal events.
To complement the formal attire look, place the scarf under a suit jacket, and then close the button.
Drape
Easy and simple option to rock the formal look.
Place the scarf around your neck by keeping both ends even of the same length.
Now simply leave the scarf under the suit jacket unbuttoned.
Make sure the half portion of the scarf is visible and half is hidden under a jacket.
Colors
It depends on the suit color but if you have universal dark grey color then pink and black should be your first pick for formal occasions.
Material
Cashmere is the thinnest material, works best with a suit because you need thin material under the suit that keeps the suit dimensions at a point.
Silk should be your priority for formal events under the suit jacket. Choose contrasting Colors with silk. This the lightest and thinnest material that looks classy and elegant when you match it with a suit.
Wear a scarf with a denim jacket
Keep it simple
The best way to style a scarf with a blue denim jacket is to keep it simple means no need to tie it just roll over your neck and leave it long tail.
The reason to keep it simple is that denim jackets have short collar areas and when you roll a scarf many times around the neck, it covers the collars, thus makes it look odd.
The single knot
The second way to wear a scarf with a denim jacket is to
take a normal long scarf and place it around your neck and tie once by bringing one end through the loop.
Scarf Colors with blue denim
Grey – Grey is the most complimentary color that goes well with a blue denim jacket. If you want to keep it simple and sober this should be your option.
Black – black is a classy and versatile color that suits most jackets and coats.
Red and grey check – want to try something different and unique then go with red and grey check combination. Not only does it compliment the outfit but also adds pattern and color to the outfit.
Material
A cashmere or wool-cashmere scarf should be your priority because it is thin and easy to style with jackets if you wear a scarf under a jacket.
A wool scarf is a preferable option if you leave the scarf hanging down.
Wear a scarf with a puffy jacket
Turtle neck
Get a big scarf and lay it around your neck so that one end is very short and one is long
Then take 3 or 2 rolls(making layers over one other ) around your neck with the long end.
finish the look by tucking the long end through the gap of the upper layer.
Choose the long scarf to get the volume. This option is great for colds weather or when you go out to a cafe in winter.
Colors
Choose the scarf that contains at least one color which compliments the color of the jacket.
Material
Wool is the best material to opt for with a puffy jacket. You can also go with cashmere but because it is so thin and doesn't go along with puffy thick jackets.