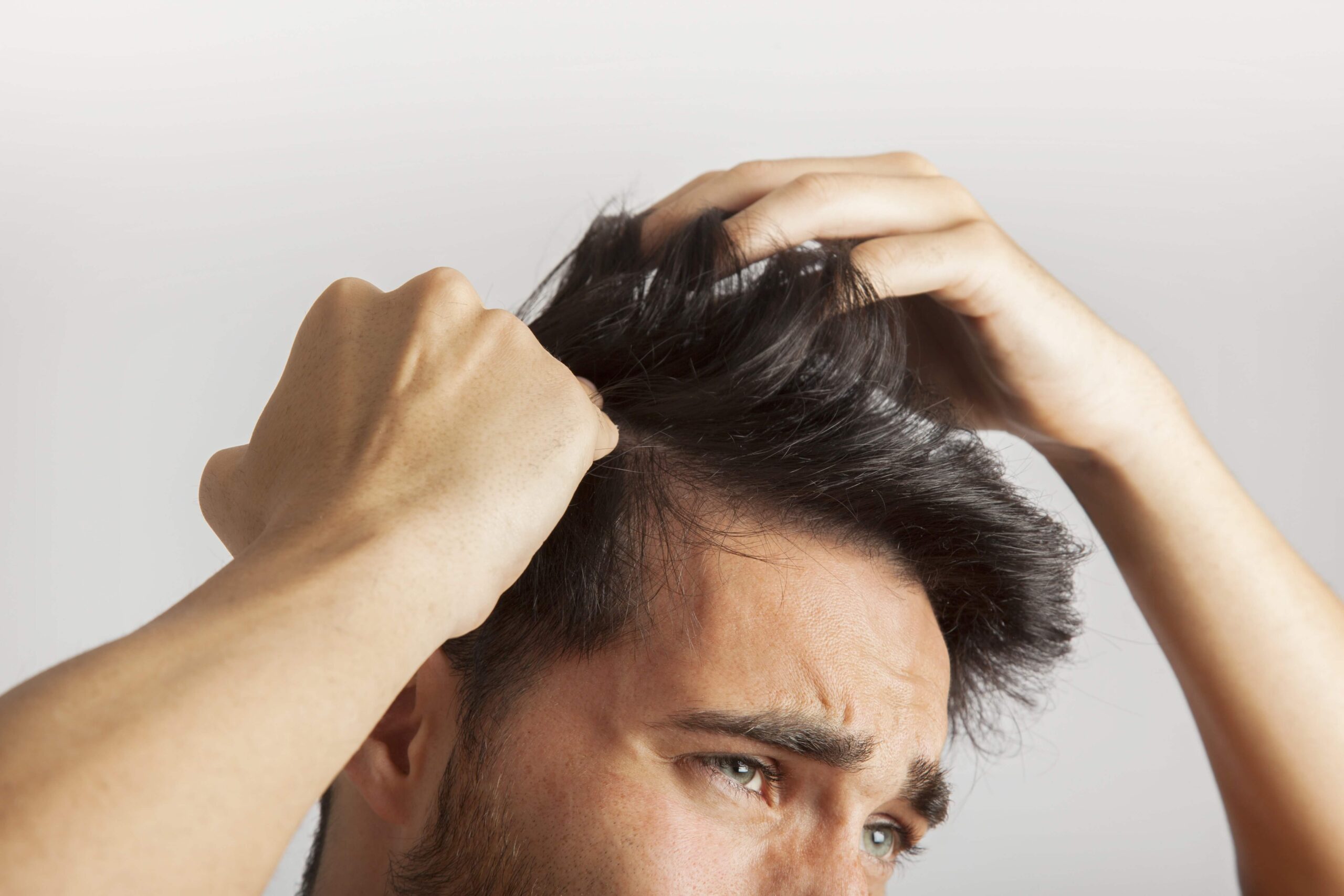 credit:freepik
One of the common problems but less talked about is the thin hair problem. Generally, 50 to 60% of men face this problem in their mid-20s or 30s. But could you overcome this problem and get your confidence back ? Yes, you can get back your thick hair by following some steps and by being consistent in it.
Thick hair not only look good but also open many style options for you. Thick hair is the healthiest and good looking hair any men can have. But in today's chemical and some biological changing world very less percentage of men have thick hair. What is the problem behind this ? The problem is the choices we make daily for our hair.
Why you don't have thick hair ?
causes:
Thin hair causes are different for individuals like. Diet deficiency, medical problem, wrong products, or DHT. Thin hair problem is becoming common in todays. Men.
Diet deficiency Nutrition is one of the main ingredients for your hair. Your hair needs protein, vitamins to stay healthy. Every second person who suffers from a thin hair problem has a diet imbalance. Vitamins like B7 is proved to be the best vitamin to keep your hair thick and healthy, that's why green vegetables are so important.
Usage of the wrong products Every day there is a new company in the market that provides grooming products. When you buy products to style your hair or to make it thick it will do the opposite for your hairs because of the harmful chemicals that produce toxic damage to your hairs.
DHT
DHT is Dihydro testosterone. What is testosterone? Testosterone is the number one male hormone. DTH is caused due to high production of testosterone in the body. Which may be of many reasons like – High protein-rich diet, artificial testosterone, or no exercise. And when your body produces enough testosterone it converts into DTH through 5-ar. Due to which hair loss is common in many men.
Read Also: How To Get Sexy Killer Stubble Look
Tips to make hair thick?
Hair moistur
Hair moisture is one of the main key things to make your hair thick. Oiling your hair is the best way to provide moisture to your hair. When we talk about hair health, it is basically of two types. Scalp health- this covers the scalp area under your hair. Scalp area basically covers the roots of your hair. Hair body health- Hair body is the upper area of your hair which you can see. To make your hair healthy and thick you need both areas healthy and good.
Oiling is the best way to provide nutrition and moisture to your hair. The oil comes in different variations like – coconut, Ayurveda, etc. Every oil has different types of nutrients which are important for your hair to make it thick. There are some rules which you should follow to get benefit from oiling the hair.
Keep changing
one thing you need to keep in mind that every oil has different nutrition quality. So, make sure to keep changing the oil after 1 to 2 months regularly.
Two to three times
Oiling your hair two to three times a week works perfectly great for you. Make sure don't overdo it, otherwise, it will cause dandruff in the hot weather.
Heat the oil before using- Applying the hot oil on your hair will open the pores to your hair root. When the oil reaches hair pores, it will provide long term benefits to your healthy hair by preventing dryness and Fung infections.
Massage the oil
When you apply oil on hair, make sure to massage it for 20 to 30 minutes to increase the blood circulation on the head. Which makes the healthy and thick hair.
Cleanliness
Cleanliness is one of the main factors to keep your hair thick and strong. Shampoo your hair at least once or twice a week to keep the hair healthy strong. Always use conditioner when you use the shampoo because shampoo will make your hair dry which is bad for your hair health. To provide moisture to hair make sure you apply conditioner. You can use conditioner daily to maintain the hair moisture.
Read Also : SKIN CARE FOR MEN ULTIMATE AND MINIMALISTIC GUIDE
Avoid heat products
One of the major reasons for hair fall, hair thinning is the usage of hot hair products like- hair dryers or straightener. Hot products that produce heat will damage the hair body and burn your hair, which will make the thick hair lose it's the thickness and makes it thin and damaged. If your hair is thin, avoid the heat-producing products. The heat will not only burn your hair but also make your scalp lose it's moisture and makes it dry. Which causes many hair problems. Volume is very important for your hair. So, make sure to use a hair blow only when you are going for any important occasion. Basically less is good.
Protein
Protein is the only of the main nutrient to build a healthy body. But it also helps in building the thick and healthy hair. There are two ways to provide protein to your hair. Directly applying mask Yes, you can give protein directly to your hairs by applying the mask of an egg. The egg is the best source of protein for your hair. To apply the egg paste on your hair, you just need one to two eggs. Apply the paste on your head for 20 to 30 minutes and then wash it with tapped water.
Diet
The other way to provide protein to your hair is by including green vegetables into your diet. It will make your hair healthy naturally. This will surely provide you healthy and thick hair.
Don't stretch your hair One of the common mistakes which cause hair fall or thinning of hair. After washing your hair don't rub them harshly with your towel. Press your hair gently with a towel and you are good to go. It will keep your hair thick and healthy. Avoid touching your hair again and again because it will pull your hair.
Don't cut Let them grow. If you want thick hair or long hair, avoid cutting your hair because when you cut your hair the growing process starts again. Make sure not to cut your hair from the top for 2 to 3 months.
Exercise
Exercise daily If your body produces enough testosterone, it will cause DHT if you don't work out. One of the main problems you don't have thick hair is because your body produces enough testosterone or you are taking artificial testosterone. DHT is not bad for our bodies. Actually we need 10 to 15% of DHT in our body. But access to it will definitely bad for your hair health. To stop this you need to burn your testosterone by exercise or any other physical activity.