Ankle socks VS no show socks. The terms are becoming more and more common in the fashion world these days.  Both ankle socks and no-show socks are exactly what they sound like. But what exactly makes them different?
As their names suggest, ankle socks sit at your ankles while no-show socks sit beneath them. In this post, we'll explore the pros and cons of both types of socks to help you decide which one is right for you.
---
What is the difference between no-show socks and ankle socks? 
Ankle socks and no-show socks are both a type of sock that extends just below the ankle. These are different from mid-calf length socks, which reach above the ankle but not quite to the knee. Both sock types create a clean and uniform look without bulky, visible socks interfering with your outfit.
However, their main difference is exactly where they sit on your legs, ankle socks cover only the ankle area, leaving the rest of your legs exposed. whereas no-show socks are a type of socks that are virtually undetectable when worn.
The lack of a visible ankle or sock top means that these socks have no visible sock tops. These no-show socks are excellent for pairing with an ankle-length skirt or dress, revealing just a glimpse of your ankles and accentuating your shoes or boots.
---
What are no-show socks?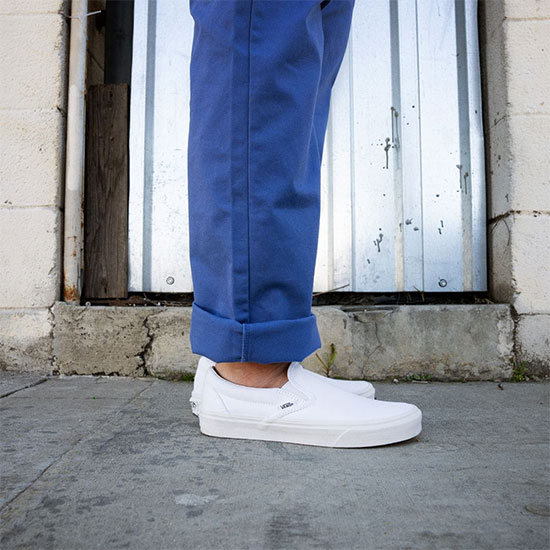 No-show socks are socks that are designed to be worn without being seen. They are typically made of a thin, stretchy material that hugs the foot and ankle, making them practically invisible when worn with shoes.
No-show socks are ideal for wearing with close-fitting shoes, such as ballet flats, loafers, and boat shoes. They are also perfect for wearing sneakers or other shoes with low-cut ankles.
A No-show sock is also known as an "invisible" sock. 
---
What are Ankle socks? 
Ankle socks are a type of sock that covers the ankle. They may resemble a shoe socks, but they are much thinner and shorter. Most people wear ankle socks when they are going out because they offer more coverage than normal socks.
Ankle socks can also help prevent blisters because they keep your feet warm while wearing thin shoes. And there is no need to wear thick, heavy shoes when you're wearing ankle socks.
A lot of people like ankle socks because they keep their feet warmer than normal socks. And they also look better than regular socks because they cover your ankles. Some people even wear ankle socks under their dresses or skirts so that their legs don't show through the bottom of the clothing.
There are many different types of ankle socks, including crew socks, tube socks, and crew-length (or long) socks. Each one has its advantages and disadvantages, so it's important to choose the one that works best for your lifestyle and activities.
---
The material used to make ankle socks vs No-show socks
There are a variety of materials that can be used to make ankle socks and no-show socks. The material used to make both socks is the same. Common materials include cotton, wool, and synthetic fibers such as polyester or nylon.
Each type of material has its own advantages and disadvantages, so it is important to choose the right material for your needs.
Cotton is a natural fiber that is soft and absorbent. It is a popular choice for socks because it is comfortable to wear and easy to care for. However, cotton socks can shrink and lose their shape over time.
Wool is a warm and durable material that is ideal for cold weather. Wool socks are often thicker and more substantial than socks made from other materials. However, they can be more difficult to care for, and some people find them uncomfortable to wear.
Synthetic fibers such as polyester or nylon are man-made materials that are typically less expensive than natural fibers. Synthetic socks are often thinner and lighter than socks made from other materials, making them a good choice for summer or warmer climates. However, they can be less breathable and more likely to cause sweaty feet.
---
How to wear ankle socks vs no-show socks?
Ankle socks and no-show socks are cousins to each other and the styling of both socks is the same. Both socks can be worn with casual shoes and should be avoided with formal shoes. 
There are many ways to wear ankle socks, but the best way to wear them is by pairing them with a shoe that has open ankles, such as boat shoes and loafers. If you wear ankle socks with closed-toed shoes like dress shoes, they will look like ordinary socks and will be difficult to see.
Moreover, you should also avoid wearing both socks(ankle socks and no-show socks) with sandals. 
Related:–Is It Ok To Wear Socks With Crocs?
---
Benefits of wearing ankle socks and no-show socks. 
Upside:
1. They are low-cut and don't show above your shoes, so they are perfect for wearing with boat shoes, loafers, or any other type of shoe where you don't want your socks to be visible.
2. They are comfortable and breathable, and they won't make your feet sweat as some thicker socks can.
3. They come in a variety of colors and patterns, so you can find a pair (or several pairs) that match your personal style perfectly.
4. They are relatively inexpensive, so you can stock up on multiple pairs without breaking the bank.
5 . They are easy to care for – just toss them in the washing machine with the rest of your laundry and they will come out looking good as new
Downside:
1. Can Cause Blisters and Sores: If you don't wear the right size socks, or if your socks are too tight, they can rub against your skin and cause blisters.
2. They Can Fall Down: Another con of wearing ankle socks is that they can fall down throughout the day. This is especially true if you have a skinny calf or ankle.
3. They May Not Keep You as Warm: While ankle socks may be great for summer weather, they might not provide enough warmth in colder temperatures..
4. They Might Slip Off Your Feet: If you're constantly taking your shoes off and putting them back on throughout the day, there's a chance that your anklets could slip off without you noticing.
5. You Might Trip Over Them: One final con to consider is that if you're not used to wearing anklets, there's a chance you could trip over them when walking around
---