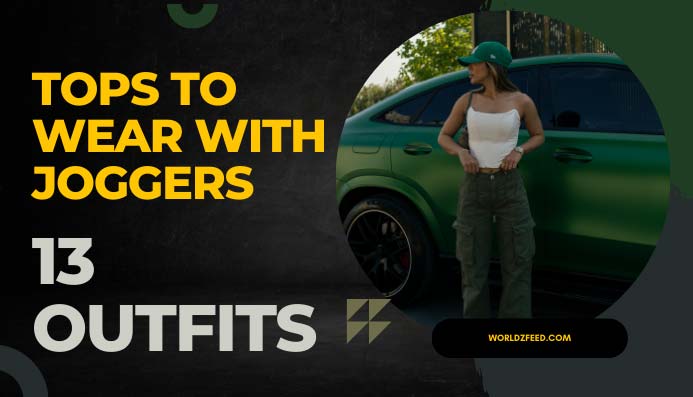 What Tops to Wear with Joggers: Joggers are the perfect pants, which may seem overly casual, but to us who always love the feeling of relaxed clothing, there are wonder pants. Although joggers seem causal. that doesn't mean you can't look fashionable in them. To look more trendy, you have to learn how to style joggers with the perfect upper wear, so you can incorporate these eminently comfy pants with a stylish top and create your own casual range of outfits.
Tops to Wear with Joggers
4 Ways To Style Joggers with Tops
The first question of styling an outfit is understanding where you are going. Outfits with joggers can be styled in numerous ways, depending on the occasion, and also making them an ideal addition to your summer, spring and fall outfits, and sometimes winter outfits too! So if you've ever wondered how to wear joggers with tops for women, we've got you covered!
For A Coffee shop
When sitting in a coffee shop, you want to feel relaxed and casual. Styling a simple pair of joggers with a cute tank top can make a cute outfit, while still being extremely comfortable! For winter months add a cardigan or a long zip-up hoodie to maximise cosiness. Add a pair of white sneakers. 
For A Casual Weekend Outfit
A casual weekend needs two things, comfortable bottomwear like joggers, a stylish top like wrap tops or cami tops, or a tube top, paired with thick neck sneakers, slip-ons, or ankle boots. 
Lunch Date With Friends
Another occasion where you can wear your joggers with tunic tops,  off-shoulder tops, bodysuits etc or any other top as per your choice, paired with any shoes from leaders to chunky sneakers and even slip on. This is a quick afternoon lunch look, you can style it in a few seconds. 
For lounging At Home
If you're uncomfortable wearing joggers outside the house, they are perfect for wearing inside the house, even better than wearing sweatpants. As sweatpants tend to get dirty and smelly pretty fast, joggers are more comfortable than sweatpants. Add an oversized tee with joggers and a long cardigan for winter, to make it the perfect Netflix Watching outfit. 
What Tops To Wear With Joggers: 9 Outfits Inspiration To Look chic
1# Tank Tops ( Sleeveless Tops) With Joggers
Tank tops look great with joggers. You can wear this outfit to a casual brunch, run errands, travel, or even work in an informal office setting.
To make it more stylish, dress it up with accessories like a bandana, silver chain etc. 
For colour choices, neutral tones like black, white, and grey are versatile and can be easily paired with bolder shades( any dark colour or bright colours). 
For a winter style add a denim or leather jacket, and add a pair of sneakers or slide sandals for a casual look.
Add a blazer or cardigan and switch to loafers or strappy sandals for a more dressy vibe. 
You May Also Like:  Best Coconut Vanilla Perfume For Women
2# Tee or Polo Shirt With Joggers
Can there be a more simple and casual outfit, than pairing a classic white or black tee or polo shirt with a jogger? This combination gives an outfit a sporty feel when paired with athletic shoes, and a classic cap.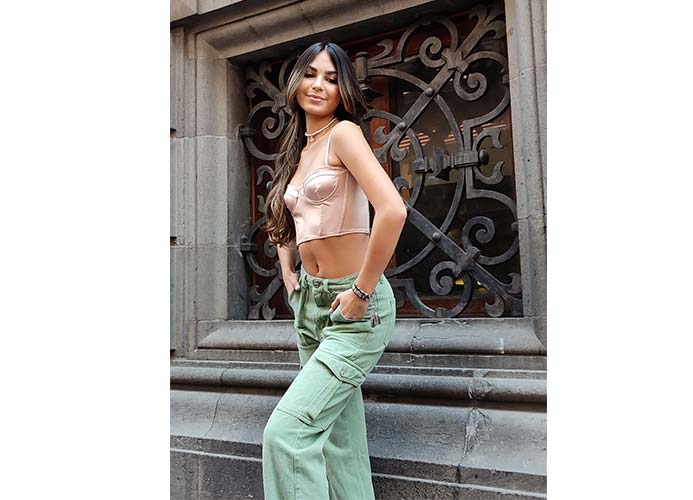 For a casual look, wear a fitted or oversized polo shirt or tees of solid or subtle pattern. When wearing tees, you can add a bomber or denim jacket, with a pair of running shoes. 
For a casual look, you can choose neutral colours such as black, grey, or white for the joggers and the polo shirt.
For a dressier look, you can choose a bold colour for the polo shirt and neutral colour for the joggers.
You May Also Like: Acqua Di Gio Profumo Clones
3# Crop Top with Joggers
To style a crop top with joggers, you can pair them with a high-waisted jogger to balance the proportions and add a touch of femininity to the look. You can also tuck in the crop top to accentuate your waistline.
For shoes, you can choose sneakers or heels for a more dressy look. Accessorise with statement jewellery or a belt to add more interest to the look.
For shoes, you can choose dad shoes or chunky sneakers, which are an ongoing trend. 
You May Also Like: Is Emery Rose Legit?
4#  Tube Tops
Tube tops and joggers can be an excellent combination for a casual, comfortable look. One option is to pair a solid-coloured tube top with solid-coloured joggers in a coordinating colour. 
This creates a simple, streamlined look. Another option is to pair a printed or patterned tube top with solid-coloured joggers for a playful contrast. You can also add a denim or leather jacket for a more edgy look. 
Accessorising with statement jewellery or a scarf can also add visual interest.
Comfortable shoes such as sneakers or slides can also be paired with this outfit to complete the look.
You May Also Like: How to know if you smell bad
5# Cami Tops
Cami tops are the most feminine tops you can have in your closet, and they are the perfect tips to wear on a hot day in summer. 
Although joggers are considered too casual, cami tops are considered elegant tops which are often paired with shorts or jeans. 
Mixing these combinations, evens out the balance of elegance and casual, making it suitable for every occasion. 
You can pair a solid-coloured cami top with patterned joggers for a playful contrast. 
Another option is to layer a denim or leather jacket over the cami top for a more edgy look. 
You can wear sandals or heels or slip on to complete the look. 
6# Tie front top
Apart from dressing casually with joggers, you can step it up with a printed tie front top. The combination of the playful pattern on the top and the relaxed, comfortable fit of the joggers creates a laid-back, effortless style. The look can be both stylish and comfortable. 
This outfit can be perfect for a picnic, a casual walk in the park or a day at the beach or a weekend brunch or a simple lunch with friends.
Accessorising with statement jewellery or a scarf can add visual interest and make the outfit look more polished.
7# Bodysuit
A bodysuit top paired with joggers can create a sleek, polished look. The bodysuit, with its form-fitting silhouette, adds a touch of elegance and sophistication to the outfit, while the joggers, with their relaxed fit, bring a sense of comfort and ease.
You can wear this combination, creating different styles like athletic attire with running shoes, street style outfits by adding a coloured or patterned bodysuit with joggers, and sneakers or ankle boots. 
8# Oversized Tops
Can there be a more relaxed outfit than wearing loose joggers, with an oversize top, that gives a perfect casual vibe?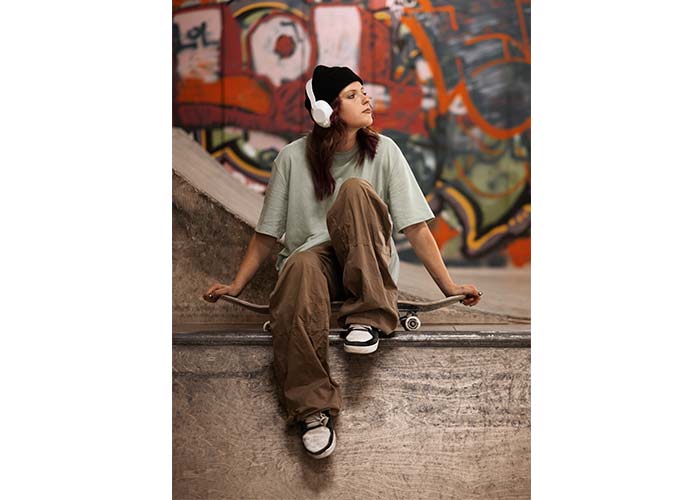 On top of that, you can tuck your top in the rear, to show what to accomplish in the gym, Am I right? in addition these are very affordable and you can get them for under 5$. So, it's worth looking into them.
9# Wrap top
A wrap top is a short wrap dress that has a similar tie-up design. The way this wraps around the body, creates a more profound body feminine profile, thus getting widely popular in a few years.
Although wrap tops are designed to be dressier and built with silk, the same design is available in cotton. Like shien which offers the full combo of joggers and wrap top, giving it a fully casual style with an added touch of elegance. 
For the colour choice, you can get full monochromatic colours which are easily styled with the red of chunky sneakers, heels, high-neck shoes, slip or loafers.