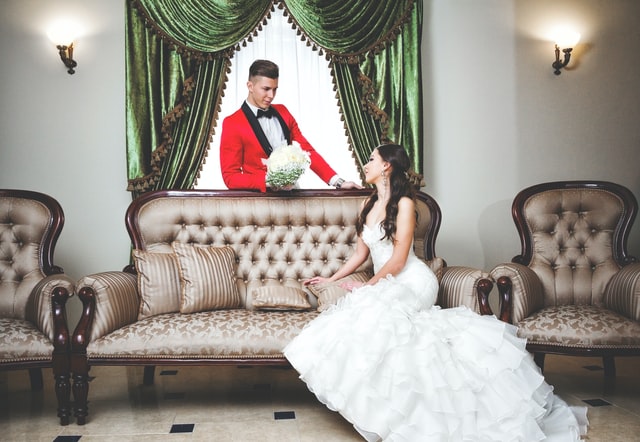 Getting hype from the movies like James bond rocking a white dinner jacket in his sequels and a luxury symbol in royal weddings is a status setter for everyone. The dinner jacket is a classic and endless trend for many years, usually designed for formal and semiformal events like – weddings or functions. But a lot of men are confused about two options when to wear a dinner jacket?  Well, you will get all of your answers in this article.
First, we discuss the difference between a suit and a dinner jacket. You can skip this part if you already know the difference.
Tuxedo vs dinner jacket
Tuxedo generally comes only in two types i.e black and midnight blue. Whereas, the dinner jacket comes in a lot of different colors like blue, white, etc. And can be patterned also.
Tuxedo is your way to go for formal events or occasions, which can be worn with black or night blue pant gives a lot more traditional look. But dinner jacket overcomes all limits with its ability to match with different color trousers which gives it more of a semi-formal look.
so, next time if you are confused about what to wear on what occasion you know the difference.
When to wear a dinner jacket?
The dinner jacket is usually designed for black-tie occasions and evening events or small gatherings. Unlike, suits which are specially made for daytime purposes like official meetings or offices.
If you are attending a formal event you can go with a black classic jacket pairing it up with the same color trouser. Going for a semi-formal event or small gathering suit up with different patterns and colors.
When to wear what dinner jacket?
White dinner jacket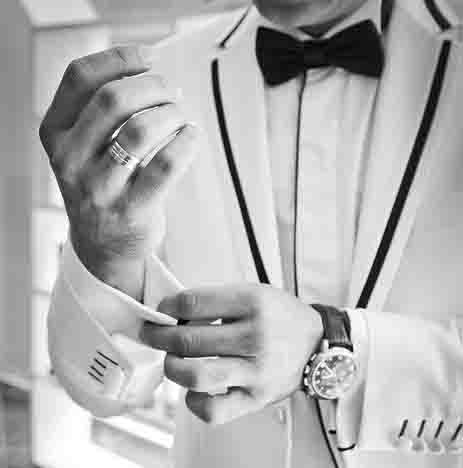 A white tuxedo is the best and most icon color out there, rocked by James bond in his movies. The white dinner jacket is best for attending any semi-formal events.
It can be paired with black trousers adds a classic element to it. You can give it a traditional look by replacing black trousers with white ones.
This is a must-have piece in every men's wardrobe.
Black tuxedo
Black is the most common and classic color specially designed for night black-tie events, can be worn with black trousers. Don't try too many experiments with a black dinner jacket, just keep it simple and elegant.
Avoid wearing in daylight because the color and fabric are specially chosen according to the night light, gives it a little bit of shine and a dapper look.
Velvet dinner jacket
Type of material (velvet) that adds the premium look to the jacket which is proved to be best for evening and nighttime. Velvet jackets give you versatile options, can be paired with different types of trousers, and provides you with a modern premium look.
Mid Night Blue dinner jacket
Blue dinner jackets mainly come in navy or night blue options and should be paired with similar blue trousers, gives you a more gentle and classy look for formal and night occasions.
Pattern dinner jacket
Adding a little more texture and bold look to your appearance. The dinner jacket comes in a lot of patterns which adds a modern element while keeping it traditional. Should be paired with similar pattern trousers. Great for evening and midnight events and occasions.
How to wear a dinner jacket?
Select a dinner jacket according to the occasion.
For night occasions go with dark and classy jackets like black and midnight blue, paired with the same color trousers.
For evening events you can go with different colors and patterns.
Dinner jackets or tuxedos generally come in two different types i.e single Breast and double breast.
The best option for modern occasions and night events pick a double breast dinner jacket that gives a more classy and modern look.
Get a nice black Bow tie attire for night and evening events. Black Bow tie is the most traditional and classy option that can go with lots of different dinner jackets or tuxedos.
Grab a nice pair of Oxford or formal shoes to rock the evening. Select the shoes that compliment the entire look of dinner and trousers. With semi-formal attire, loafers add a modern touch to the look. But go with formal shoes with tuxedos at night events.
Select a perfect plane dress shirt under your tuxedo or dinner jacket. Go with a white shirt if the whole look is black attire. Or go with the same color as a dinner jacket to compliment the look. You can select the try the difference pattern with a dress shirt like white color and blue shirt, but make sure never go select it for night events with tuxedos.
Make sure the shirt is well ironed and clean with no wrinkles.
Types of tux, accessories, Colors, and tie
Tux or dinner jackets mainly comes in two types as explained above i.e single Breast ( where two front buttons of shirt are visible) double breast ( where three to five buttons of your shirt is visible)
Shirt collars
There are three different types of collar
Wing collar
The best option for with the tuxedo or dinner jacket occasionally suited for formal events having a standup lineup with downwards points. Going for any formal occasions or for wedding wing color are best.
Band collar
A straight-up collar rounded around the neck, not the best option for formal occasions but can be experimented on semi-formal occasions with a dinner jacket.
Spread collar Best option with euro tie, gives a more wide look. Revealing the front buttons of the shirt. A better option than a band collar.
Cuffs
Mainly come in two types i.e button rounded cuffs or standard ones. The best option with jackets or tuxedos is button rounded cuffs or you can add cuff links.
Accessories
Suspenders
The best option and you should use it for keeping your pants up. Choose according to your height or buy that is customizable.
Tie bar
Usually designed to keep your up straight still giving a clean and elegant look. It is made of metal, generally comes in silver and gold Colors.
Not a great option on formal occasions with tuxedos or dinner jackets.
Cummerbund
Can be worn with dinner jackets or tuxedos. Cummerbunds are belt-type material made of silk, usually made to prevent the shirt to pop out from the pant to give a clean and v shape look to your body.
Cufflinks
Cufflinks are a symbol of luxury and status. Often worn by a gentleman on the wedding day or on formal occasions.
Cufflinks are a type of jewelry item that is optional but adds a plus point to your dress.
Tie
Bow tie
A best-suited option with a tuxedo. Often comes in different types of colors for different occasions.
Black and white are some of the classics reserved for formal occasions.
Bolo tie
A bolo tie is an easy option without doing any complicated knots.
Bolo tie contains a single big colored button attached on the top gives a semi-formal look to your outfit.
Euro tie
A long tie with square bottom gives a classy and formal look. The best option for formal occasions and suits in widespread Colors.
Necktie
A general tie can be worn with dinner jackets. Avoid wearing a simple tie instead go with the silk one to get the gentle and more occasional vibe.