Dressing two in one is the best way to show your affection to your loved ones. Well, if you are in love and want to create the bond deeper than rocking the same cute matching outfits is the best way. Choosing the best couple outfit is a difficult task, after all, you don't want to look like a clown. So, we have made this task easy for you by providing you with the best cute couple matching outfits that you can rock with your bae according to the occasion.
Cute couple matching outfits
Casual couple outfit
Casual is the simplest form that you can rock every day in and out, whether you are going to market or any restaurant to eat casual outfit is the best and simple way to go. So, what can work best for you besides your body weight, complexion?
Well, it's not a secret or a surprise that a casual outfit white tee with blue jeans is the most classic and best option for you and your bae.
You can also add extra layers like – blue denim to upgrade the look. This light casual outfit gives you a cute and fresh look.
Travel couple outfit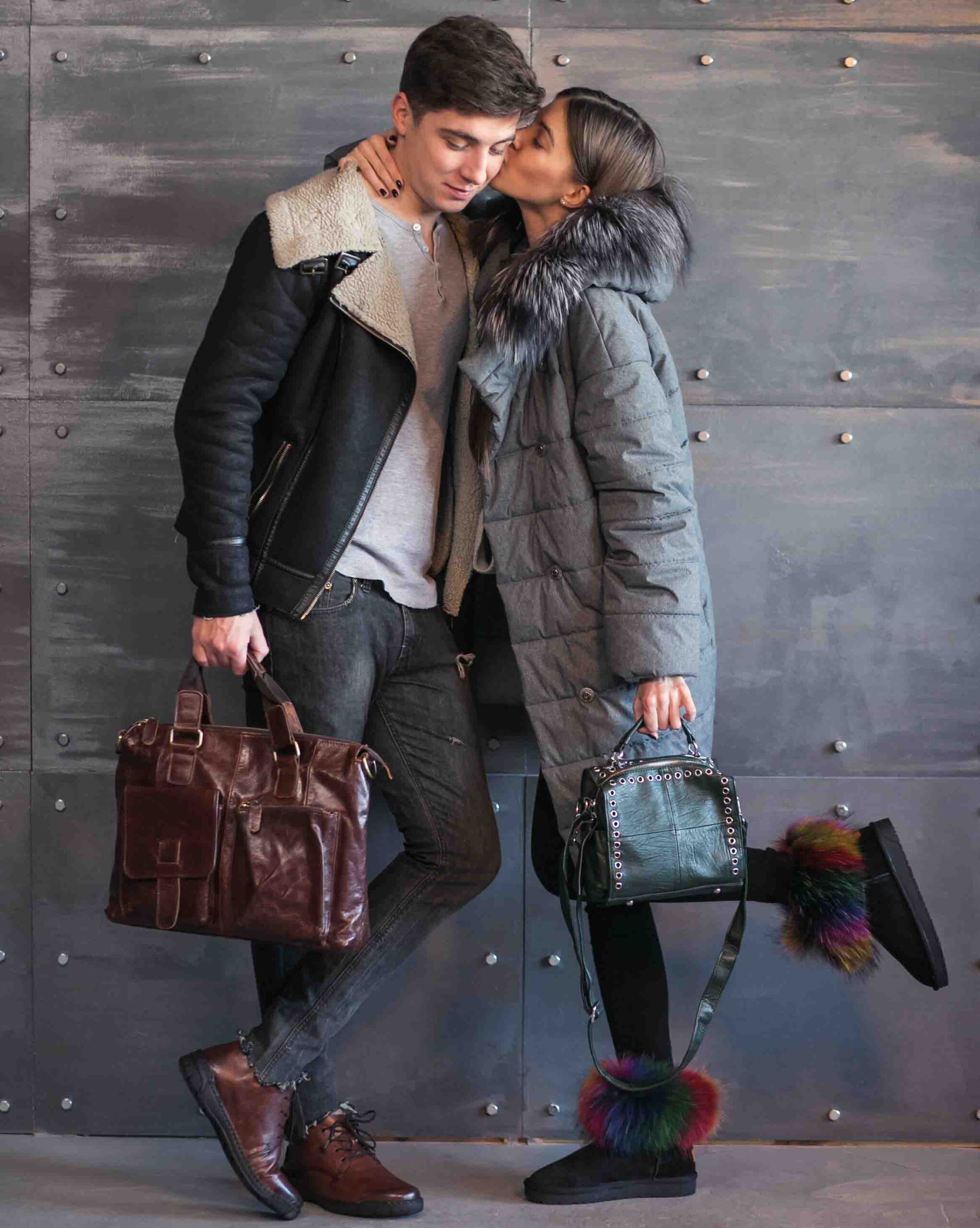 If you travel more often with your partner then matching your outfit is the best way to take your relationship to another level. There are few limited options for travel couples but we have created the best stylish look for you.
How to style
Look for him- you can pair a light tee with dark grey denim jeans and add an extra layer of leather faux jacket that compliments your brown leather shoes. To give it a more edge you can also add a brown bag that compliments the color of your shoes.
Look for her- To match your outfit with him choose a black color tee combined with a black tee and paired with black suede shoes. You can also add an extra layer of the light grey bomber jacket to match with his black faux leather jacket.
Holiday couple outfit
If you're planning for holidays with your love then you can rock this cute couple matching Outfit that gives you an edge and beautiful memories as a couple. A holiday look is a light casual look that gives a holiday vibe.
How to style
Look for him- Matching a purple Tess with cream trousers, and wearing a cream hat complimenting your trouser gives you a holiday vibe.
Look for her- Complimenting a black top with black and white stripes plazo pant provides you a perfect match with your partner. Wearing a cream hat adds couple flavor to the outfit.
Event couple outfit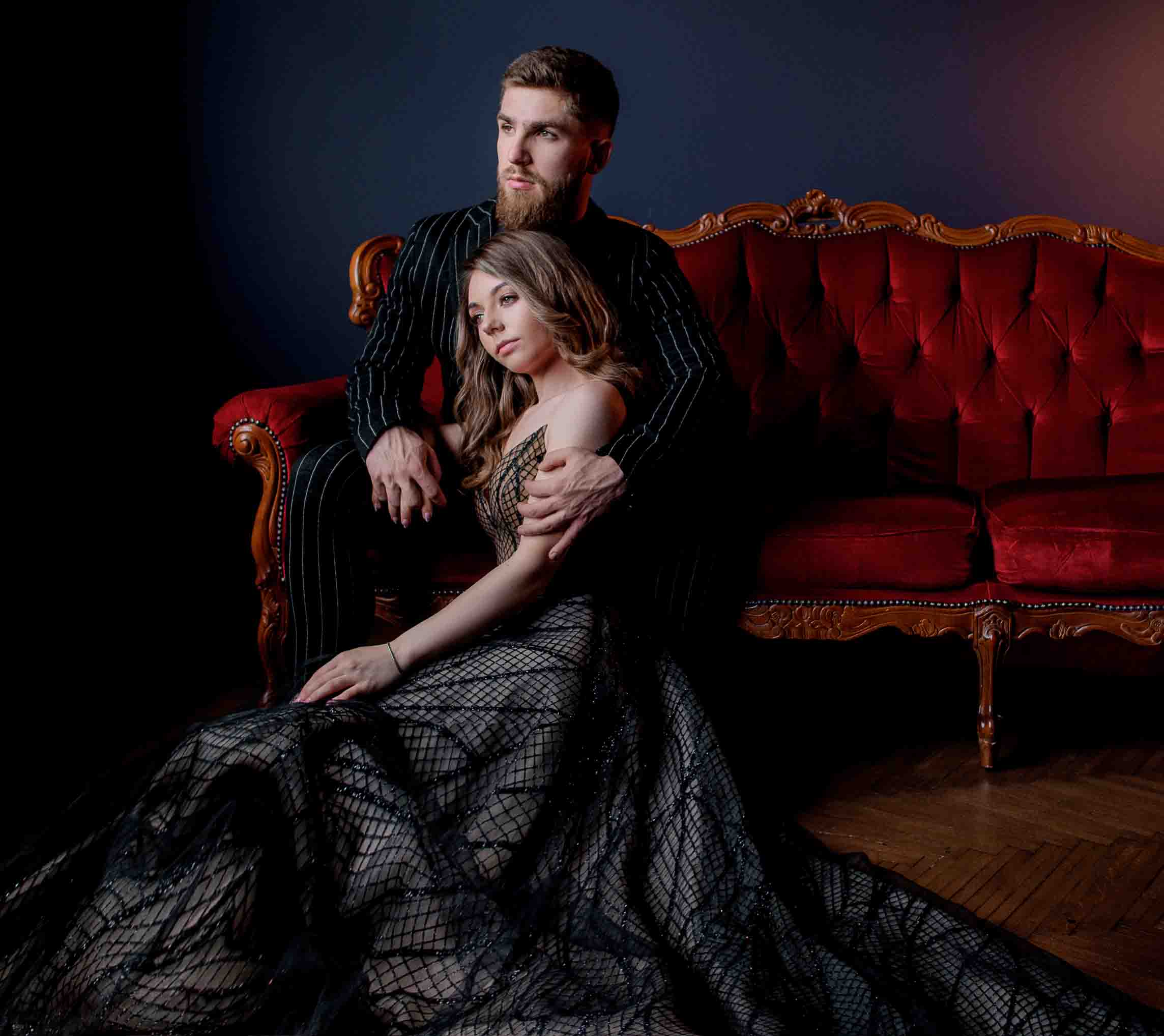 Planning to attend a formal event with your love and want to claim the best couple title, then your search is over. Event outfits come with heavy material that gives a bold and shiny look, specially designed for functions and night events.
How to style
Look for him Dress up a black classic suit with a few bit layers of white stripes giving an event occasional look, combine it with nice black color loafers or shoes.
Look for her Matching a black net gown with a hint of white dots complimenting his suit white stripes.
Dinner look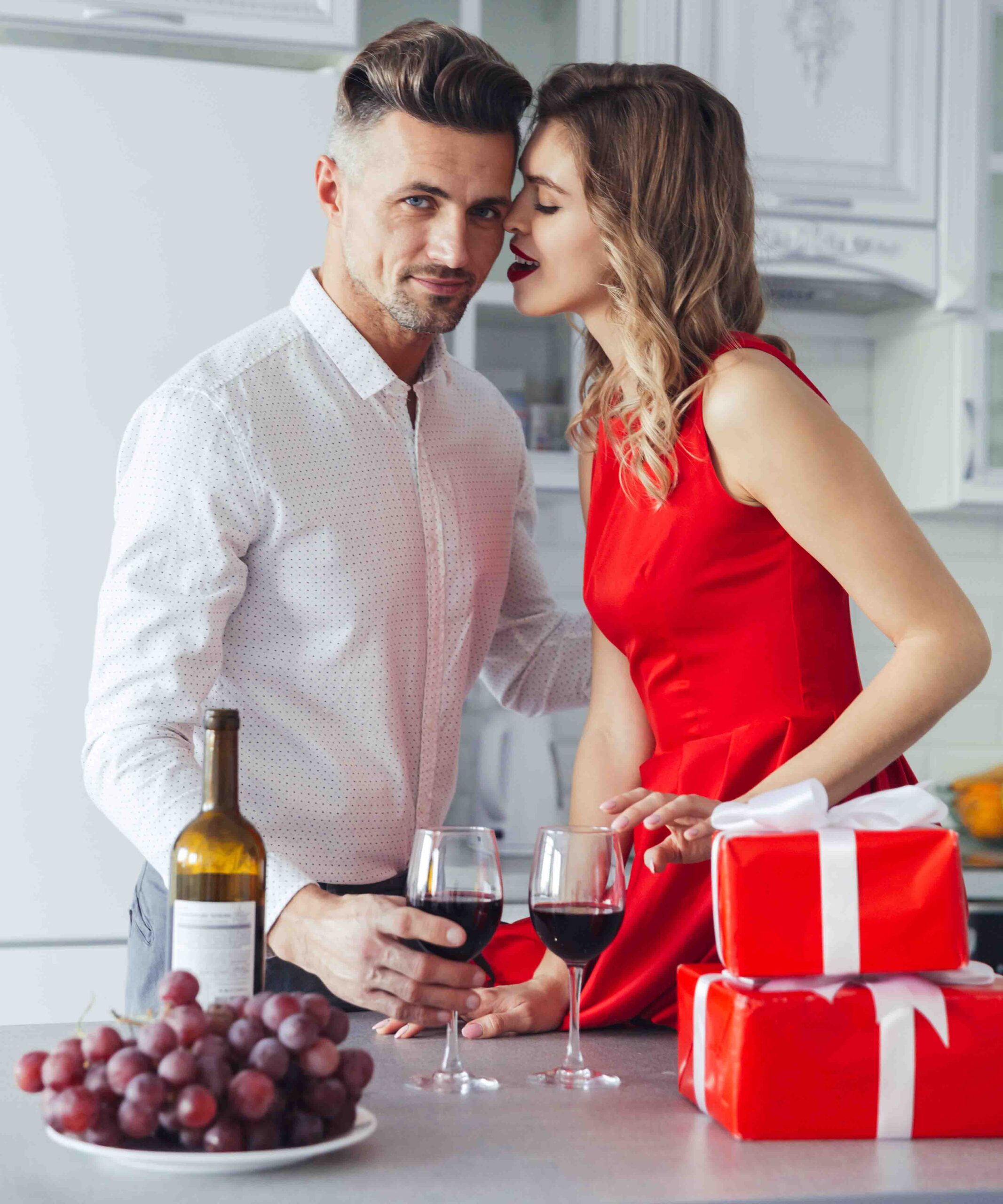 setting dinner for your partner then matching your look with her gives a perfect couple vibe to the occasion.
The dinner look is all about a semi-formal and dark look to pull off the night vibe. Selecting a perfectly cute couple matching outfit for dinner is simple, just keep it minimalistic and classy without any patterns and designs.
How to style
Look for him- Match a white shirt complementing a light grey color pant and a nice pair of black leather shoes. Semi-formal gives the smoking vibe to the occasion.
Look for her- Wear a nice red color one-piece complimenting his white shirt.
Beach look
Enjoying your weekend with your loved one is the best feeling and matching your beach outfit gives it an edge and creates a deep bond between both of you. The Beach look is most simple contains minimum material and gives you a happy weekend vibe.
How to style
Look for him- grab nice quality white shorts to keep the vibe light and cool.
Look for her- Match a nice pink color swimwear by adding a layer with a black stripes shirt.
Formal couple outfit
Are you both hustlers and work in the same business or company then matching your outfit creates a healthy bond between you and her.
A business look is something that works similarly for both of you, a business outfit gives you a classy and formal look and is also easy to match.
For couples, the business look has different varieties that cover from simple to stylishly designed mainly for meetings and office work.
How to style
Look for him- suit up like a boss with a classic dark blue blazer matching it with a light blue undershirt and an optional light grey tie.
Look for her- A nice light blue kurta or shirt that compliments your cream color trousers. You can also add a dark blue blazer for professional meetings to make a match with him.
Date look
The date is something which is the minor stage of a relationship but to create a bond on your first date or your 5th date matching it up is the best option.
Date outfits cover a variety of options covers patterns and casual looks. Always keep it light and casual or you can go with a semi-formal look.
How to style
Look for him- Dress up with a casual black tee combined with black trousers. To give yourself the edge you can add a gold neck chain.
Look for her- follow the dress code by wearing a black frock top (keeping it casual) to compliment his outfit. You can add an extra layer with a black leather jacket to give yourself an edge.
Home look
Well, chilling at home with your bae this weekend and want to know her or him a little more, start with matching your outfit with his/her.
If you can show in front of people to show you a deep bond then it's time to show your love to her by keeping it the same when no one is seeing you. Matching a simple casual outfit is the best option for you. keeping it simple with a t-shirt and shorts is the best option for you.
How to style
Look for him- style a simple peach color t-shirt combined with nice grey color joggers or shorts. just go simple to avoid any patterns and designs.
Look for her- get a perfect match outfit by styling a nice grey T-shirt with nice grey color shorts or joggers.
Airport look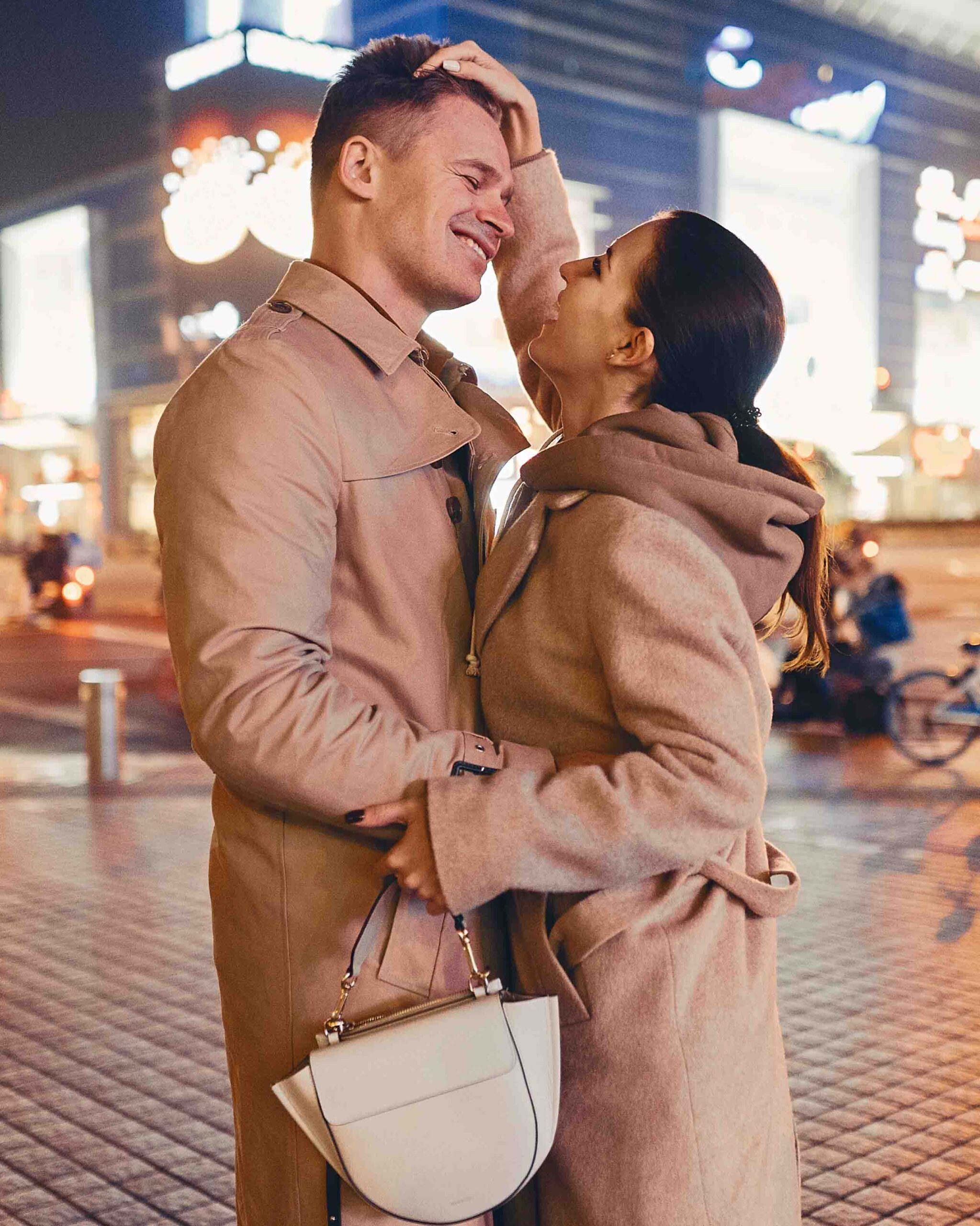 Do you travel a lot abroad and spend most of your time just on airports then It's time to give it a 'couple look' and rock it with her/him. The airport look gives you more stylish and versatile options out there.
How to style
Look for him- Match a quality light brown color trench coat with a black undershirt combined with black trousers and a nice pair of leather shoes.
Look for her- grab the same color trench coat complementing the inner black outfit. Always go with minimalistic Colors with shirts and trousers
Workout look
Adding a cute couple matching outfits with colorful patterns to your work routine gives a push to your couple goals. Workout with the matching outfits gives a team vibe and creates your bond more healthy and strong.