With humidity and a lot of sweating summers also comes as a spoiler or curse to any style. As usual, summers are high with the maximum temperature and bring an alarm with them for me, to upgrade my hairstyle. As I have been rocking the same style for 1 year but these hot days made it difficult for me to maintain and style them according to my will. So, this has made me curious about the latest summer haircuts trend that provides a fresh and clean look, also easy to maintain in hot summer days. This list includes all three patterns long, short, and medium with a style guide.
Image credit:Designed by Prostooleh / Freepik
Curtains
One of the most popular trends from the 90s has found its way back in the game this year. It's not a secret that this haircut still looks dope as in the 90s, rocked by many celebrities like David Beckham. Curtains are the best long haircut for this summer, need no high maintenance, and easy to style.
How to style
Back in 90s curtain was rocked by people with the straight hairline, but as time changes curtains have also evolved with a fade on sides and back which gives it a modern classic look.
Curtain haircut is the medium-long length from front, carrying the short sides and back.
You can rock curtains by giving the side partition or middle partition.
Your game is solid if you try this haircut in 2020 as a lot of fashion trend is tied with the 90s this year and this is the best time to try this iconic haircut.
Buzzcut
Not a surprise entry for this haircut in this best summer haircuts this year. One of the common and simplest haircut out there with no time wasted and also best for hot summer days. Besides its simplicity, it also gives you an edge and stylish look. But if we talk about buzz cut in early times, it is mainly called bald head where you chop off your all hair with clipper, but today's buzz comes with a lot of options and styles. Not all buzz haircut option work for everyone, it all depends on your head size and face shape. So, take help from your barber in guiding the best buzz haircut for you.
How to style
This is a known fact that styling a buzz cut requires minimal effort, it's a wash go haircut that doesn't require any hair wax or electric dryer.
The only problem with a buzz cut is that you have to revisit barber every  1 or 2 weeks randomly to maintain the hair length, because of the short length hair grows more quickly.
High and tight
Do you like clean fades? If yes, then this summer haircut is for you. This haircut is best for hot sunny days, gives you an athletic and modern look. The high and tight haircut is similar to a crew cut but gives a different look because of its high fade from sides and long from the top.
How to style
With long or short upper hairs and clean thin fade from sides gives you a neat and clean look. The best thing about this haircut is that it suits almost all face shapes.
Styling a high tight haircut is easy with no sides. You only need a hair wax to hold the upper hair and one dryer to provide a volume.
Fade with curls on top
Do you believe that curls get girls? Well, if you don't this hairstyle will definitely give you an edgy and cool look if not girls. This hairstyle is similar to the high and tight hairstyle with the only difference of curls. This summer haircut best suits the men with curly hairs.
How to style
Get a high fade from sides and back, keep the length medium from the upper area.
To style, this haircut use a light hair cream that holds the curls on hot sunny days.
Faded Pompadour
Let's get real with style it is the best option in this list of best summer haircuts, personally rocked by me. This haircut is lit, gives a stylish and gentle look, rocked by David Beckham himself. This is a modified version of the pompadour haircut where sides are kept high fade with a medium-long length on the top.
How to style
To get this look all you have to use is a quality clay product in and out to get the fresh look with hairs at the point.
Shaved head
Best for summer if you can pull this style. A cut rocked by famous celebrities like Dwayne Johnson and Vin Diesel gives a strong masculine look and keeps you cool in hot summer days. The best option if you don't want to waste your time on styling your hair daily.
How to style
One of the most Minimalistic haircut out there which needs no maintenance and time. You can shave your head in your home with clippers at any time of the day.
Skin fade
Brother to buzz cut provides a clean and gentle look with little hairs on the top with no fade. This haircut is easy to pull but the only thing to keep in mind is your head shape and face shape.
How to style
Similar to a buzz cut requires random maintenance after 1 or 2 weeks as the hair grows faster. The best point about skin fade have over buzz cut is that you can trim your head in your home, No barber needed after the first time ( to get the hairline details).
Classic texture
Best Long haircut for summer, this haircut is medium from sides and back with a long hair on top with little bit texture and volume. It's an old classic haircut which is suits most of the face shapes.
How to style
Style it with a quality clay to give the texture to the hair. Styled backward with the help of dryer to get the volume and flow.
Sunkissed haircut
This haircut is in trend for a couple of years and will remain for the coming years because of its versatility. It goes well with sleek back quiff and some texture. This haircut is basically low- high fade from sides and medium-long on top.
How to style
The best way to rock this haircut is by styling it backward by creating texture with clay and creating high volume to make the quiff on the top.
French crop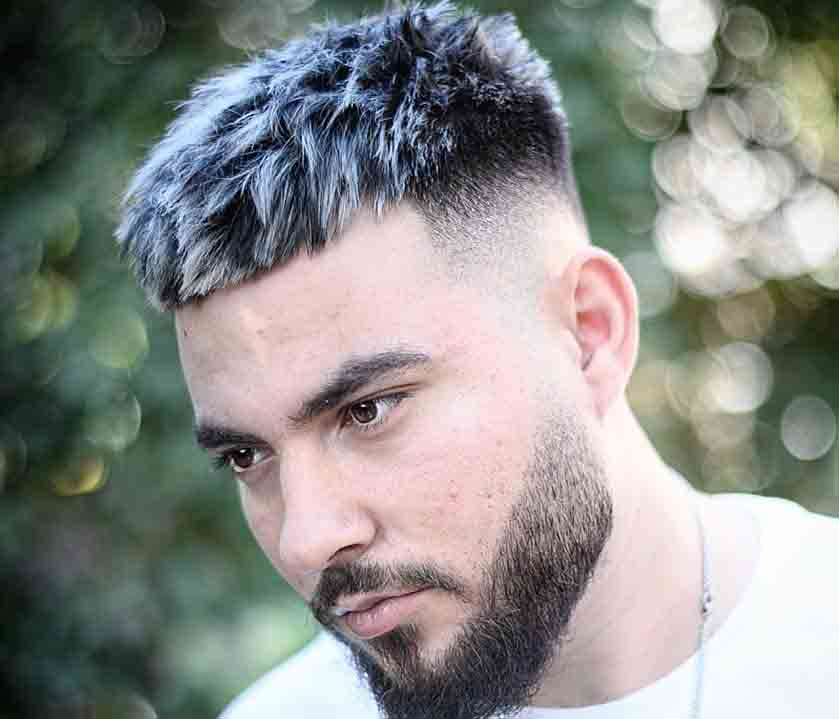 Similar to High and tight with the only difference is that the hair is short on the top and styled forward with a little bit of texture. This famous haircut is styled by famous celebs like Zayn Malik for an amount of time.
How to style
Keep the sides high fade and top medium. Provide a texture to it by using the clay or spray. Always tell your barber cut the bangs straight across the forehead of the same length.