Getting ready for casual occasions and want to try something different with your outfit like – pairing up a round neck t-shirt with blue skinny jeans. Well, choosing the right skinny jeans is not a trick task than choosing the right shoes to wear with skinny jeans, if you struggle with the same problem then your search is over, as a fashion follower I personally deal with this problem so I have done some research and created the best list of shoes to wear with skinny jeans.
Before checking the list first understand the rule that applies to skinny jeans. The shoes that are generally styled with skinny jeans are Slim and lack the big soals the reason behind this is the overall look you get with skinny jeans makes more focus on shoes if you wear shoes with big soals, or if shoes are too long because of your feet size. Put in simple words the Skinner the jeans you wear the more is the focus on shoes.
What shoes to wear with skinny jeans for guys
Chelsea boots with skinny jeans
Starting with the old classic worn by both men and women in the back 1800s also known as Victorians.
Chelsea boots are the flat soal shoes with slim ankle space and a high neck top. Besides its ancient history, Chelsea boots are still on the streets with their unique structure and also work best with skinny jeans.
Because of its slim soal and narrow structure, which is tight to the skin matches the skinny jeans and gives a well-suited street look.
To style Chelsea boots with skinny jeans focus more on ankle height which varies from low to high.
Wearing high ankle Chelsea boots with skinny jeans and a T-shirt or crisp Oxford shirt is the best option to rock.
Converse shoes with skinny jeans (street style )
Also known as chuck tailor or all Star converse is the casual shoes that work best with skinny jeans.
The most famous converse edition generally comes in cotton material but is also manufactured in leather material by the company.
These shoes consist of the white rubber toe on the top and brown rubber is used in soals.
Converse are made for basketball players in the early days but as the years passed they are evolved as casual wear shoes that work with jeans, skinny jeans also.
Converse usually comes in different ankle lengths. High ankle converse pairs perfect with skinny jeans, or otherwise low ankle are best for casuals like – shirts or pants.
Converse usually comes in white which is good for Summers, but for winters black is a great option.
Loafers with skinny jeans (occasion vibe )
Loafers are the latest trend that works great with skinny jeans and casual pants. Loafers are open flat shoes with minimal under ankle height specially designed for Summers shoes that work with a lot of semi-formal and casual outfits.
Loafers are a modified version of slippers with no heels and laces on the top, gives a fancy and modern look.
Styling loafers with skinny jeans are easy because of their flat soal which outfits the feet area when worn with skinny jeans.
Loafers generally are made of leather and suede, to choose the right for your skinny is the key.
Suede is the best match with skinny jeans, matching leather loafers with skinny is also good if you're getting ready for semi-formal occasions.
Trainers with skinny jeans
Trainers also known as athletic shoes, now also work with casual outfits are the best pairing option with skinny jeans.
Trainers are not limited to physical activity as of the latest trend, trainers are paired up with a lot of casual outfits mainly with skinny jeans.
Trainers have high soal but a narrow structure that overcome the other pitfalls with skinny jeans.
If you want a comfortable experience without affecting your style statement then matching up trainers with skinny jeans is the best option.
Styling trainers with skinny is easy. Trainers usually come in a lot of different colors and patterns, but white is a great option with blue skinny in summers.
The material usually used in trainers is rubber.
Boots with skinny jeans (winter style)
Lace-up boots with skinny jeans create a winter Street style. Long leather boots with lace-up are a good option to try out with skinny jeans.
Boots are generally made with slim feet area and high ankle length creates a matching structure with skinny jeans.
This style only works in winters, avoid making it a mistake in summers as leather boots are usually made for the high cold season.
The material used in boots is hard leather that protects you from Harsh cold weather.
High lace-up boots give a lot of style options like – wearing blue skinny jeans with black high lace boots, paired with a long brown trench coat.
Canvas shoes with skinny jeans
Canvas shoes are the best option to match with skinny jeans as they come in different types from medium ankle length to low ankle length.
These shoes are usually similar to sneakers but are more comfortable and easy to go for casual occasions.
Canvas shoes are made of canvas material on the top and rubber slim soal that works in favor of skinny jeans and gives you a dope look.
The Canvas shoes are usually should be your way to go on casual occasions.
Adding multiple layers( adding an extra cloth on t-shirt or shirt like coats or jackets) with Canvas shoes while wearing skinny is not a great option as they are designed usually for casual street style.
You can style it with skinny blue jeans and a white t-shirt ( match the t-shirt color with the color of your shoes).
Casual shoes with skinny jeans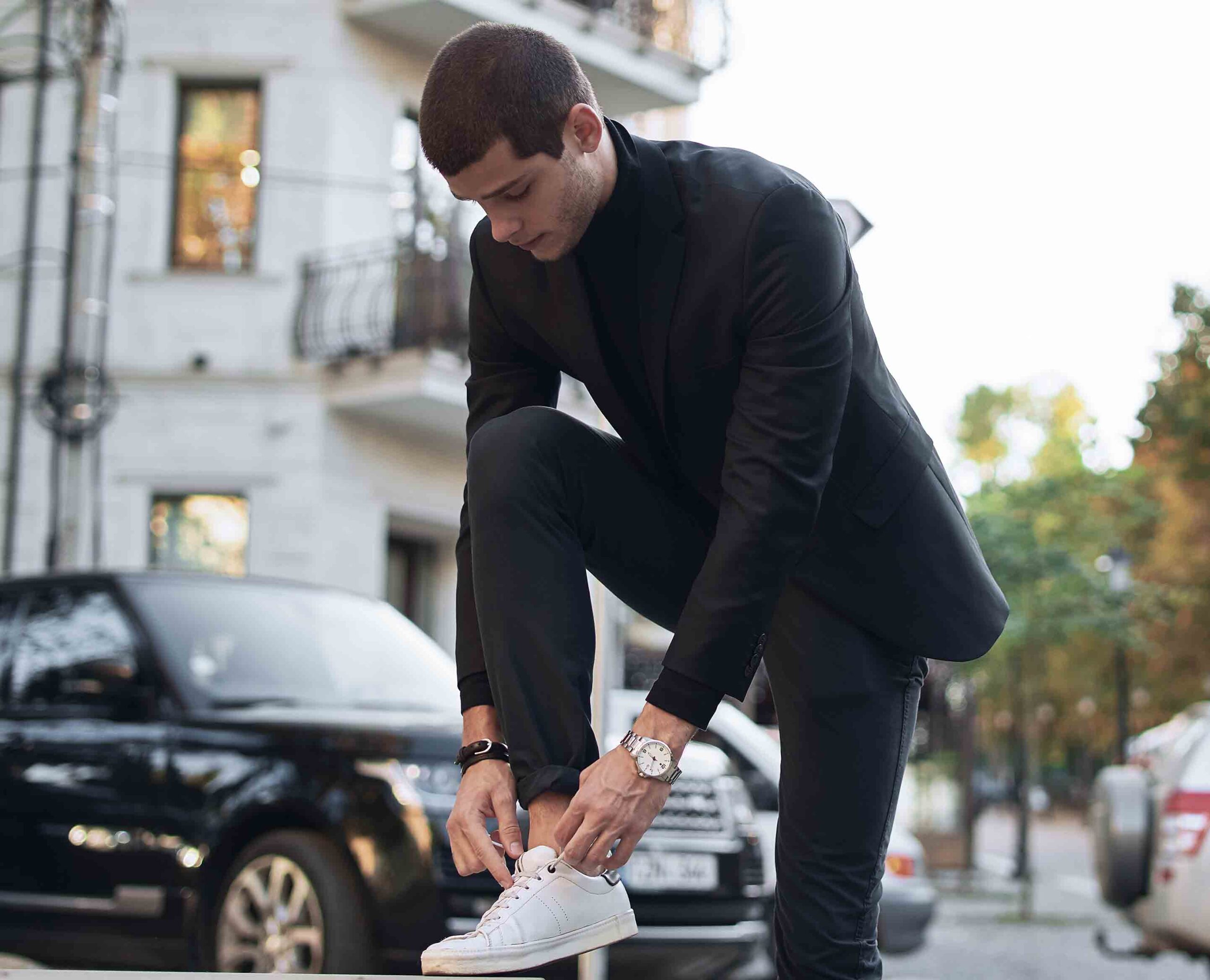 Casual shoes with flat soals are also a great way to rock them with skinny jeans. This option gives you a variety of options to choose from.
Casual shoes with flat soals made up of rubber compliments the overall look of your outfit.
Casual shoes usually come in a leather material with low under ankle-length and laces on the top.
Styling casual shoes with skinny jeans are easy and time saver. No multi-layering is good with casual shoes when paired with skinny jeans.
They are the same as a canvas but provides a lot of different options to choose from