Relationships are the backbone and strength of our lives that keep us happy.
Relationships are a circle of life, our life is dependent on them in some or the other way. Relationship Goals for Couples are a sure way to follow for a healthy relationship.
Every relation has a different meaning be it related to your mother, father, sister, friends, or life partner. And they have their own uniqueness in them.
Don't get your hopes high and think that there are no ups and downs in a relationship. 
We, Humans, are just want to love and be loved for a healthy well being. It's the most special feeling that your heart holds for a lifetime. 
Here we are going to discuss the bond or relation you have with your better half or the person you just started dating. 
Whether it's an old relationship or a new one there are always some changes that every couple goes through once in their lifetime. You may or may not have experienced these changes in your relationship but you might.
There are some of the most trusted and followed relationship goals that might save your relationship from being ruined.try these relationships goals to make your bond stronger and give it a boost.
You cannot have a relationship if you think that it doesn't need effort. Think once why we have goals? To live a better life. In the same way, our relationships do need efforts for strong and healthy relationships. And if you love your partner you wouldn't risk any chance of losing them and willing to do the necessary work to make it work and boost it. And relationship goals are a source to help you do that.
Relationship Goals for Couples:
The foremost and most important relationship goal is to communicate. Communication is the key to healthy and stronger relationship status. Give yourself and your partner space to talk about your feelings and allow them to share theirs as well. A relationship where one person listens and other talks are not going to last longer and eventually fall apart. Especially for new couples, they are the ones who suddenly encounter changes in their life and find hard to communicate. It may take some time to open about their feelings. But gradually you will find a way how to communicate. 
With communication, your bond will grow emotionally become stronger and healthier.
Take the initiative to understand your partner's feelings and emotions. What actually they want to tell. With new relationships come new responsibilities so make sure to understand each other in-person for a better relationship. 
Know about your partner body language,
Ask them more, communicate until each one of you fully understands what's exactly they were trying to say.
Read: How to overcome Shyness?
Take advice from your elders or seek a counselor to help you understand each other. But if you find a way yourself is better and more impactful.
Instead of forcing your actions on your partner, understand them and if you see there is any chance or reason of dispute, make them clear by communicating well.  
Small little things are what makes a relationship interesting. So, do unique things to make beautiful relationships.
When we get to know more about a person. Only when we take steps to communicate with them or understand them. Know your partner more by having some little to a deep conversation with them for a better and strong relationship bond. the point is to know them not interrogate them. So ask them in the best way possible. Don't make them feel like they need to answer questions like a student. Keep the conversation real and interesting.
Little fights are normal in a relationship. Don't get disturbed by these fights. If you ever indulge in a fight or something like that with your partner or anything that you don't like about them and that makes you angry or something like that. tell them the truth right away instead of stretching it for too long. Have you ever come across a quote that says " Words once spoken can't be taken Back". So remember one thing if you can't control your anger at that particular moment then try to take a step back. And tell after cooling your mind for a while. 
Arguing is natural in any relationship. Sometimes they make us understand our mistakes and sometimes they clear our misunderstandings. But if you're having these arguments more often try to keep busy in some other activities to realize and understand each other.
Time is what we want most in a relationship. And relationships do need time to work. You can't have a relationship if you don't give time. Have patience and give some space and time to your partner. There will be a time when you both will be comfortable with each other and can share anything. 
With time and little efforts, there will be a mutual understanding between both of you. 
If you ever fall in some heated argument try to give some space and time to them to calm your anger before in turn worse.
A relationship is a two-way process both of you must do efforts to make it work. 
Give time and then see how it goes.
Read: How to Stay Calm?
To keep your relationship interesting and healthy go for some fun activities from time to time. Having fun together will keep the relationship alive.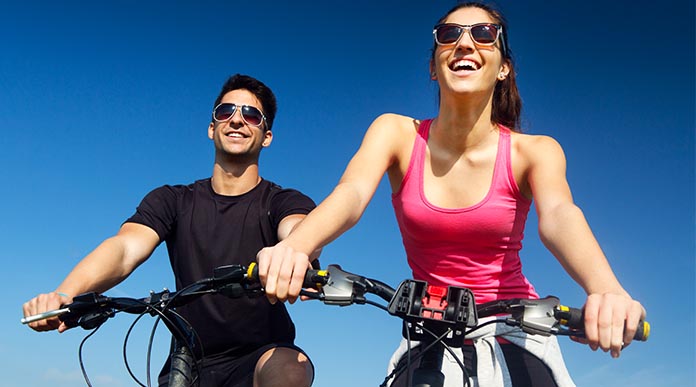 Image Credit People photo created by nensuria
Go for adventure sports or any other activities that amuse you the most. It's a different feeling when you enjoy it together for some time. And gives you live a new way to live together. 
This point doesn't need any introduction or explanation. It's self-understood. Helping each other is how we survive this life. We help others then in turn we are blessed but that's a different thing. 
Food photo created by freepik – www.freepik.com
A relationship is all about sharing, caring, and helping each other. The most difficult times are where we need help from the most special person. So always get ready to help your partner whenever they are in need of it.  
Help each other and pass the difficult times together. 
When you enter a relationship changes come gradually. All of a sudden you get to experience new things. 
Cope with all the changes together. The best way to deal with these relationship changes is to follow these relationship goals for couples and that too together.
For any relationship to work. Trust is the number one factor that plays a great role in your relationship. Any relationship is incomplete without trust. 
Build trust and respect your partner. Don't get behind your partner's back to break their trust. Because once it's broken it's hard to build again. 
Today most relationships don't work because they somehow lack the trust of their partner.
Prioritize Your Relationship 
It's time to make your relationship a priority before anything else. 
The more you put time into the relationship the better understanding and stronger the bond will become.
Smoothly go with it and be cooperative with your partner. 
Time is the most important weapon but where you invest it matters. It doesn't mean that you spent all day at home with your partner. But how you manage it matters.
Make your relationship a priority and manage all other things accordingly. These are some of the best Relationship Goals for Couples to make your love stronger. 
.
.
Read More About: How to Raise Your Self Esteem