Everyone in their life has or will face interview. Especially, if you are a graduate or fresher male, the first thing you possibly do is applying for a job unless you want to pressure another profession. Well, to get a job you need to have the knowledge or some skill in that particular area. But in today's world where every mature company is looking for leadership qualities in their candidate you need to level up your game. Well, how you maintain yourself, outfits, and how you look is the plus point to have in any field. The study has shown, people who dress well are more superior in their fields than those who don't. Not only they attract people but as shown by studies they also earn 30% more than their colleagues. Interview outfits men is a full guide that tells you what to avoid and some best options for you.
How dressing will impact your interview?
choosing the right interview outfits men (Dressing) for an interview is not a complicated task but a lot of young men who have just started, struggle in picking the best interview outfits for them. In most of the interviews, the interviewee judges you by just seeing you, which includes your interview outfits and body language. Dressing formally for an interview is the one step but to outstanding in that area, you need to make some good choices. Well, today we will give you some best examples that you can rock in your interviews.
Interview Outfits for Men
Light plane shirts get more professional
credit: Business photo created by katemangostar
Wear a full sleeves shirt with light colors if you want to make a good impression in the eyes of an interviewee. Go for universal colors like white, light blue and light pink, Make sure to add these colors to your office wardrobe.
What to avoid?
Don't select shirts which don't fit you. Get a nice tailored shirt that fits you well not too tight or not too loose. Fitting is the most important rule for any dressing.
Never wear a half sleeve shirt to an interview. Half sleeves are considered as semi-formal.
Never go to an interview without doing iron. To make your shirt look good you need a perfect iron.
Never wear a shirt with a loose collar. If needed apply collar stabs to keep the collar of the shirt straight.
Don't open more than one button of your shirt.
Formal pants to matchup the interview vibe
There are few options available in this section as you only need two pairs of formal pants if you are going for an interview i.e grey and black. Grey and black are the universal dress code for many companies around the world. Not only black and grey gives a clean and gentle vibe but also makes a statement that defines you as a superior candidate. It's all about class. If you already have these two colors you can also include a navy blue color in your wardrobe.
What to avoid?
Don't wear chinos for an interview. You need formal pants for interviews, but you can go with chinos if you are going for a semi-formal company interview like Google, where the environment of the company is more of a casual. But if you go to any law firm you can not wear chinos. It's all about the environment and profession of the company.
Don't wear formal pants without getting iron. A well iron pant with crease or edges is more important than anything.
Don't wear too tight or too loose pants when going for an interview. Get a nice formal tailored pant.
Tie ( consider as an option for interview outfits men)
It depends on the culture of the company or if you are wearing a suit for an interview. if the company dress code is more formal than a tie would be a nice option for you.
Shoes that outshines your interview outfit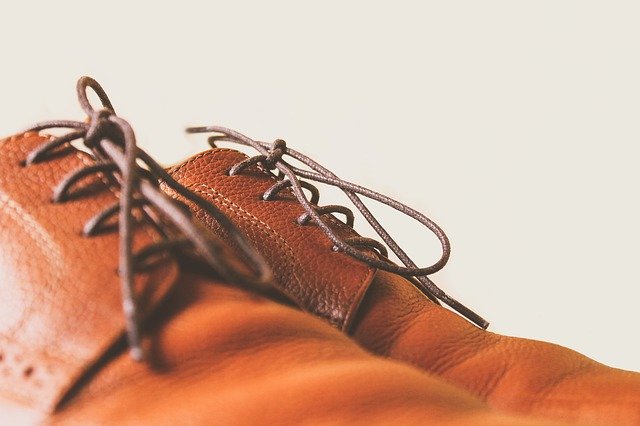 shoes speak about your status. Most people make assumptions in their minds when they see your shoes. Well, in the interview where the first impression matters a lot, you need perfect clean shoes without any designs or straps on it.
Two main options in shoes are black and brown with lace-up. But to make it look good on your interview outfit, you need to match the shoes with a belt.
What to avoid?
. Avoid sneakers with a formal dress when going to an interview.
. Monk straps shoes don't style up with your formal interview outfit, avoid shoes with straps because they look more stylish and funky. Always go for simple classic lace-up loafers.
. Don't buy shoes with a hard sole to avoid the noise when you walk on a hard floor.
A simple belt to get a professional look
wear a nice simple belt that matches the color of your shoes. Dark brown, black, light brown are the best choices for an interview. Always wear a belt when you tuck in a shirt. There are many formal belts for office in the market which are a great option for you. Select a belt as simple as possible.
What to avoid?
. Never wear a belt which has a design on it.
. Never wear light or bright color belts for any interview.
. Avoid the mismatching of shoes and belt color.
Accessories to match the interview outfits men
Accessories are an important aspect of your dressing. But do you need any accessories for your interview? Not much, but you still need a nice watch.
Watch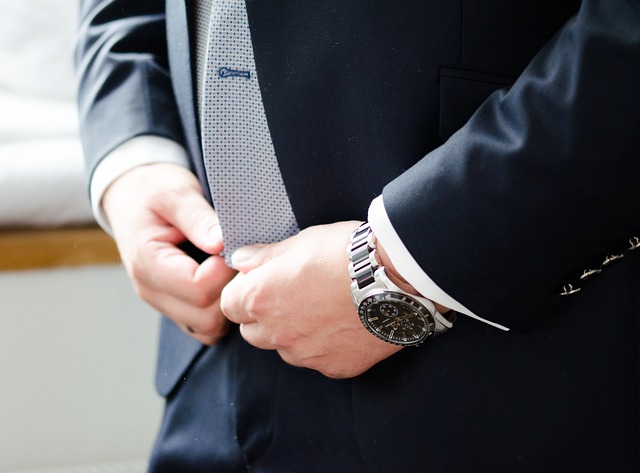 A watch is a very important accessory if you are going to an interview. The watch reflects the person who is taking an interview how much you respect and value your time. Wearing a nice simple watch also makes you look more mature and disciplined.
Silver watch with Blackstrap and brown leather strap watch is the universal and most preferable option for you, but if you want to level up your formal look, always choose a full metallic watch. Make sure your watch strap color matches with your outfit color.
What to avoid?
. Avoid wearing a funky or sports watch to an interview.
. Avoid wearing a loose chain watch because it will not look professional or mature.
. Accessories are important but you don't need Band, earrings or chains around your neck when you go to an interview for a job.
Perfume
the smell can give a long-lasting impression on anybody, but you do not need a strong perfume for your interview, a fresh fragrance with one spray is good to go. There are many perfume brands available on the market, but you want a soap fresh fragrance that freshens the environment around you. Spray, to only avoid sweat smell because being a man we smell a lot more than women.
What to avoid?
. The too strong fragrance is a bad option to pick for an interview.
. Only apply perfume that gives a fresh vibe. Keep it as smooth as possible.
If you want to know more about perfumes and how to apply it read – How To Apply Perfume For Men Guide | Be The Best Smelling Men
Hairstyle and beard
Grooming plays a very important role in an interview. You need a clean and fresh look when you walk in front of some mature and experienced people. Hairstyle and beard are common aspects of your grooming. To get a perfectly clean and formal look you need to avoid some things. Which will be discussed below. Well, this is not an interview outfit for men but it covers 10% of your dressing.
Hairstyle 
You need a fresh cut from barber one day before going to an interview if you want to look clean.
Don't apply wax or any other product on your hair, keep it simple and professional.
Beard
Beard is a trend right now, but when you go for a professional interview, you need to maintain it or go for a clean shave.
A clean shave is the best option for an interview, but you can also go with a stubble option which works just fine.
If you want to know more about stubble read this article- How To Get Sexy Killer Stubble Beard Look