Ruling over almost a century trench coats have never fade their place in the fashion industry. Trench coats have seen it all from military battles to becoming icon pieces in movies and now one stylish street-long coat for cold weather, worn by both men and women all over the world. Well, trench coats are one basic piece that completes your winter wardrobe. Over the years' lots of things have changed with trench coats but we mainly focus on style, which means how to wear a trench coat to get an edge. But before styling the trench coat you have to make sure you have one right piece.
How to wear a trench coat male
Wear with casuals
The simplest way to style a trench coat is to wear it with a plain t-shirt and blue jeans. A nice white or black t-shirt and blue jeans make perfect streetwear for your way to the mall or coffee. For footwear, a nice pair of Chelsea boots are a great compliment.
Trench coat with formals
Well, do you travel a lot for meetings and the airport is your second home, then adding a trench coat to your style, will surely give you an edge and make you 'outstand' in the crowd.
Well, a lot of fewer people know that you can style trench coat with formals on your way to the office or through traveling because of its more domination as a street style.
Now, get over with the same dress code as your colleagues and make your own signature look or style by adding a trench coat in winters or mild cold weather.
Trench coat button up
One of the simplest ways to wear a trench coat, yet best if it is raining or it's too cold outside.
But if you are just experimenting then before closing down those buttons make sure to only close one in the middle and leave the bottom and upper unbuttoned.
Never allow yourself to close the under button because it makes the coat look just other raincoats available in the market.
A trench coat with a shirt is another great way to rock the trench coat look. Wearing it with a check shirt, you can also fill the empty collar area with a muffler which adds another layer to the look.
There are two ways you can style it either by keeping the coat unbutton or you can close the middle button which makes the portion of the shirt and muffler still visible.
Multilayering with scarf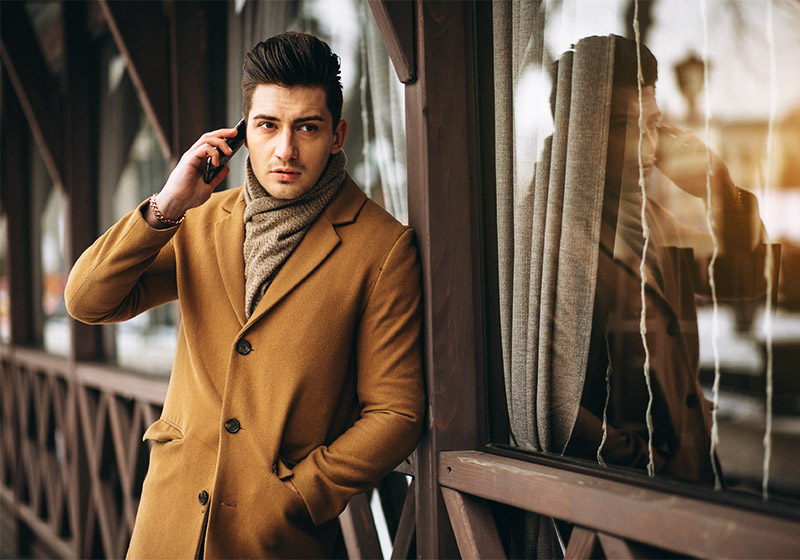 The scarf is specially made so, that you can style it with a trench and other long coats. They offer you the freedom of experiments that you can try with a lot of different colors and patterns available in the market.
To rock this style button all the upper buttons to your neck and leaving the only bottom unbuttoned. Adding a muffler still makes it multilayer and makes you look dapper when you walk through the street.
Always make sure to pick the muffler(color) that compliments the color of the coat.
Style with turtle neck sweater
The stylish and modern way to style a trench coat is with a turtle neck sweater. If you are more on the young side and want a modern street style, then this style is for you.
Men with long necks should fold the neck to cut down the long tail which will make your neck look too tall. And if you are men with a normal neck, you can style a turtle with no fold.
You can pair a black turtle sweater with a brown and grey trench coat, or you can go with a dark blue sweater and a grey trench coat.
Choose the right color of the sweater that compliments the trench coat, if you have no experience then a black turtle neck and brown trench coat is the classic option.
Buying guide for a trench coat
Now, before buying a trench coat first thing you should consider is that a high-quality trench coat can last you years, decades, or even a lifetime.
But with its durability, you have to pay nice money for it from your pocket. So, put a handsome amount of money aside for a trench coat if you genuinely want one.
Material
Trench coats are available mainly in three types of material. Which are –
Polyester and cotton blend
Now, this is common that you can find normal in the market. Now if we talk about its quality then it depends if the distribution is 51 or above of cotton, and less than 50 for polyester then it's a sign of good quality trench coat, but not the best.
Then if you have less than 50% of cotton material used in a trench coat then no doubt it will not last you long, it's basically a cheap material that you will find easily in markets.
Cotton
Best material used in most of the products. 100% cotton fabric is the best material used in making a trench, provides high quality, durability, and a comfortable experience to the user.
If you are buying a trench coat that can last you long enough then always choose the 100% cotton-made coat.
Fitting
Fitting is the king in any fashion, and this is not an exception. A right-fitting trench coat is as important as the quality of the coat, whether you are buying it to make a style statement or for weather necessity. A loose-fitting coat is a big no in this fitting-driven era.
Basically, the first thing to look at in a trench coat is the length of the coat itself. The length of your knees or slightly above knees is a perfect length for the coat.
Second, you have to check that coat is a perfect fit and comfortable when buttoned. If you are buying a trench coat from an online store, make sure you get the right measurements because it's difficult to get the perfect size of a trench coat if you have the wrong measurements.
Color
No second thoughts, if you want icon trench coats you should always go with khaki and camel color as these colors are also known as the trademark color for trench coats from the early days.
If you want to experiment, there are different Colors, almost most of the Colors are available in the market. Pick your style that matches your outfit.
Sleeve styles
Now if you are an old customer you probably may know about sleeve styles that trench coat offers. There is a varied range of sleeve styles but the two popular ones are.
Ralgon
Basically, a traditional sleeve style where the arm sleeves go all the way up, and rather than matching up to the shoulder it attaches in the middle of your back.
Alternative
As the name suggests in this you get the shoulder seam, usually, sleeves go all the way up to shoulders and attach, gives a nice shoulder seam. If you are buying a trench coat to style with different outfits then you should always go with this sleeve style because it adds a nice detail to the width of the shoulder.
Breast style
Well, selecting the best trench coat journey doesn't just end on fitting and quality, it demands more effort to pick the right trench coat that you can style or wear with different outfits.
Trench coat usually comes in two breast styles
(i) single Breast – This is the latest trend where your get single Breast means the buttons are at the middle just like your shirt. This is the best option for multilayering where you keep the coat unbutton to get an edge.
(ii) double breast – double breast is where the buttons are given at the side of your chest which makes one side of the trench coat bigger or you can say cloth is more on one side of a trench coat. This is one of the classic options that gives a royal look and an English vibe.
Also, the original trench coats come in double breasts because of their military background.
Best brands for trench coats
Burberry
One of the oldest players in the making of trench coat history. Burberry provides you with the perfect fit and length just what you need to make it look stylish and modern.
That said, if you want to buy any trench coat from Burberry then always keep in mind you get the best quality in the world because the material used in the making of the trench coat is pure and natural, which on the other makes them expensive as well. But investing today $1000 can give you lifetime relief.
Aquascutum
A great competitor to Burberry, Aquascutum has a long history. It is one of the oldest brands out there with a history of more than 150 years.
Aquascutum trench coats are rocked by many celebrities and loved by top royal families in the world because of the quality and comfortability it provides.
Besides its history, Aquascutum offers a regular fit that can fit any regular person irrespective of size. So, if you don't find the one from Burberry then your second option should be Aquascutum