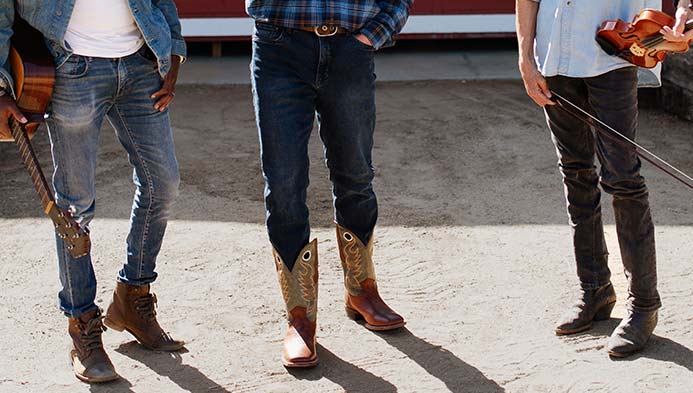 There's something about the combination of jeans and cowboy boots that just looks so effortless and cool. Whether you're wearing them with a t-shirt and jacket or a pretty blouse, they always look great. Plus, they're super comfortable and easy to wear. However, Lots of people do not know What Jeans To Wear With Cowboy Boots, if you are one of them, check out below:
What Jeans To Wear With Cowboy Boots For Men
Whether you're a country boy or a city slicker, cowboy boots look great with a variety of jeans. There are two main types of jeans that suit best with cowboy boots for men: a boot cut and a straight fit. Both styles can look great with cowboy boots, but it's important to choose the right fit for your body type.
1. Boot Cut Jeans
Boot-cut jeans are designed to fit snugly around the hips and thighs, with a slightly flared leg opening that accommodates cowboy boots. 
Furthermore, If you're aiming for a more traditional look, go for boot-cut jeans. This will allow your boots to fit comfortably over the jeans, feels like a more relaxed, laid-back look,  and give you a classic Western silhouette. When wearing more rounded-toe boots, then boot-cut jeans can help create a nice silhouette.
2. Straight Fit Jeans
Straight-fit jeans are just that – straight from the hip all the way down to the ankle. For a modern twist, a sharper, more put-together look of the cowboy look, try wearing straight-fit jeans with your boots. This slim-fitting style is growing in popularity and looks great with cowboy boots. Just make sure the jeans are long enough to cover the top of your boots.
When wearing pointed-toe boots, then straight-fit jeans will help balance out the look and prevent your outfit from looking too top-heavy. However, straight-fit jeans are more form-fitting and therefore can look more stylish, but sometimes they can be difficult to pair with cowboy boots since they don't usually have enough room in the leg.
So, which type of jeans is best for cowboy boots? It really depends on your personal style and the look you're going for. Generally, bootcut jeans should be your first priority, but straight-leg fit jeans will also do the job, just make sure the straight-leg jeans are of good length to cover the boots.
What Jeans To Wear With Cowboy Boots For Women
If you're looking to channel your inner cowgirl, then a great pair of jeans is essential. But what kind of jeans should you wear with cowboy boots? There are three main types of jeans cuts that will look great with cowboy boots: bootcut, straight leg, and wide leg. 
1. Boot Cut Jeans
Bootcut jeans are the classic choice when it comes to pairing with cowboy boots. The slight flare at the bottom of the leg helps balance out the width of the boots and looks very flattering. Also, they provide a slimming effect and can be easily tucked into boots. However, they can also be uncomfortable if they are too tight in the thigh area. Furthermore, you'll have a little extra room in the calf area, allowing you to tuck your jeans into your cowboy boots without feeling constricted.
2. Straight Fit Jeans
Straight-leg jeans are a good alternative to bootcut jeans. They have a looser fit in the thigh area and can be more comfortable to wear. However, they can sometimes bunch up around the ankle area when worn with cowboy boots.
3. Wide Leg Jeans
Wide-leg jeans are the least common choice for cowboy boot wearers. They can be difficult to tuck into the boots and often look bulky when worn with them. However, they can provide a more relaxed and comfortable fit than either bootcut or straight-leg jeans. However, wide-leg jeans likely need to be hemmed so that they don't drag on the ground. 
4. Skinny Jeans
Skinny jeans are the ultimate classic jeans that can never go wrong, especially if you are wearing classic cowboy boots.
Although it's your personal preference, which jeans to wear with cowboy boots, bootcut jeans are typically the most flattering option, but straight or wide-leg styles can also look great if they're the right fit. Dark wash denim is generally the most versatile and easy to dress up or down, but lighter washes can also be great for a more casual look.
How To Wear Jeans With Cowboy Boots
One of the great things about cowboy boots is that they can be worn with a variety of different clothing items, including jeans. If you're wondering how to wear cowboy boots with jeans, the good news is that it's actually quite simple. 
One popular way is to tuck your jeans into your boots. This gives you a clean look that's also stylish. Another way to wear cowboy boots with jeans is to let your jeans hang over the top of your boots or wear them over your boots. This is a more relaxed look that's perfect for a casual day out. 
Remember a few things to remember when pairing jeans with cowboy boots.
First, it's important to choose the right type of jeans. A bootcut or straight fit will work best, as skinny jeans can look a bit sloppy when worn with cowboy boots. 

Second, you'll want to make sure your jeans are long enough to cover the top of the boots. This will help create a sleek and stylish look.

If you want to dress up your cowboy boots and jeans, try pairing them with a blazer or jacket. This will add a touch of sophistication to your look. No matter how you choose to wear them, cowboy boots and jeans always look great together. So next time you're getting dressed, consider throwing on a pair of cowboy boots with your favorite jeans.

Finally, don't be afraid to experiment with different styles of cowboy boots. From classic brown or black to more colorful options, there are plenty of great choices. So have fun mixing and matching until you find a look you love!
Jeans To Avoid With Cowboy Boots
When it comes to cowboy boots, the last thing you want is a pair of skinny jeans, especially for men.
Skinny jeans will make your cowboy boots look bulky and out of proportion. Also, these types of jeans will often times bunch up at the ankle and look unnatural with your boots.
Only wear Skinny Jeans when You Tucking the jeans inside Cowboy Boots
Instead, opt for looser or more relaxed-fit jeans that will complement your cowboy boots nicely. These styles will create a long, lean look that will complement your cowboy boots perfectly.
Tips to Style Cowboy Boots With Jeans
Choose The Right Length: Lots of people do not understand the right length of jeans when they are wearing them over cowboy boots. The jeans should cover the shaft of the boots or slightly below the ankle, but not long enough that get stuck under your heel when you walk. The best length is when the jeans are above the heel of your cowboy boots by a  half inch, like in the picture.
Avoid Tuck-in Jeans: Some fashion labels may convince you that these look good, but these never look good, especially for men. Women have the choice to style however they like, Just avoid skinny-fit jeans.
Denim Color: Medium wash and dark Blue are classic denim colors to go with cowboy boots. Medium washes blue jeans for daytime, and dark indigo for a night out, are forever classics. Avoid light-wash denim, as nobody wears them, and it's for a valid reason, they are outdated.
Styling Tips:
If you want to keep it casual, pair your jeans with a denim shirt and brown cowboy boots.
For a more dressy look, try pairing your jeans with a white blouse and black cowboy boots.
If you're feeling adventurous, go for a printed top and brightly colored cowboy boots. Whatever style you choose, just make sure you rock it with confidence!